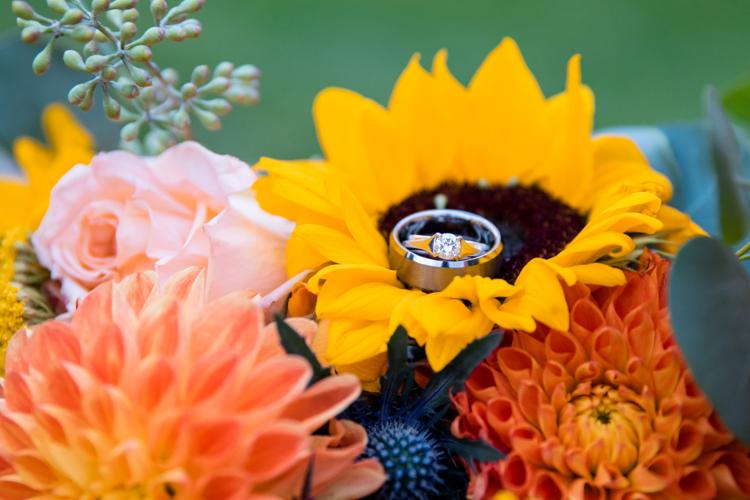 When it comes to selecting your flowers for your wedding, keeping seasonality in mind is important to keeping your costs under control, but considering the venue and the type of flowers you want is also important, Janet Gardner from St. Char Ro in St. Ignatius notes.
Hydrangeas are a popular choice among brides who want to DIY their wedding flowers, but they're given that name for a reason.
"They take up water like a fire hydrant," Janet says.
This means they will need to be watered two or three times a day, possibly more if your wedding is held in the heat of summer. If you've done your centerpieces hours ahead of time and then have them sitting on the tables in the heat of the day, by the time the reception rolls around or the photographer comes through, the flowers can look wilted and parched.
Florists are trained in how to properly condition flowers to harden them and keep them looking nice through the day, Janet notes. The flowers must be cut and watered again and again, placed back into a cooler and many other things. Centerpieces, for example, should never go out on the tables more than two hours early, she notes. Arches for the ceremony shouldn't be done more than 30 minutes beforehand, she commented.
For florists who are in the know, fresh flowers can be mixed with silks in an arch to bring the whole thing to life, while allowing the budget, time and location constraints to be kept in mind.
If you're trying to save money, Janet recommends carnations, which will last and hold up in all weather, along with mums.
"Spider mums are just gorgeous in all arrangements," she says.
Cymbium orchids hold up well and are available all year, Janet points out. They can even be as cheap as roses, which she urged brides to not underestimate. Roses go down in price in the summer, and can make stunning additions to bouquets or centerpieces of their own. Peonies are another great option for spring and summer brides. Sunflowers, white daisies and blue delphinium all work well in the summer also. As summer turns into fall, golds and tans become more prominent and seasonal flowers remain a great option.
"And if you see snow on the mountains, put a touch of white in," Janet notes.
Many brides are moving away from a stark white towards wildflowers, succulents and ivory and beige tones.
Prices and availability can vary depending on the market as well, Janet notes, so work with your florist to determine what will work in your season, price range and tastes.
"Ask!" Janet urges.
Some florists will have access to different markets, changing your options for your floral arrangements.
Janet recommends waiting to chose your wedding colors until you have your destination set and your rentals prepared. Though she has a lot of stock, on particular weekends, they can be completely rented out of tables, chairs, tents and more, she says.
Often couples send all their money at first, but forget the other stuff they need to have ready. With rentals secured, destination and gown can then be considered.
"This is Western Montana," Janet notes, so the weather can be variable.
"Don't count on a 70 degree day," she cautions.
After 45 years in the business, she still see brides scheduling summer ceremonies in the hottest part of the day, with guests sweltering in the sun on itchy hay bales or wanting a sparkler send off in the middle of fire season when darkness doesn't come until 10 p.m.
Your guests want to be comfortable and celebrate your love, so consider them too when choosing your location and timing.