A new tree has gone up on the Westside.
The 17-foot-tall iron and copper trunk, with sprouting and delicate-looking leaves, is situated on Shakespeare Street near the entrance of Freestone Climbing.
Sally Jo "SJ" Beck, co-owner of the building and owner of the West Side Studios and Theater, commissioned the piece to pay tribute to her late father, Harold Beck, a longtime Missoula businessman who loved nature.
She wanted to pay tribute to him in a subtle way, since he was a quiet, behind the scenes and unflashy person, she said. After several years, the idea of a metal tree sculpture sprang up, and she has a close friend, blacksmith/metal sculptor Nathan Kimpell of NAK Designs, who could make it happen.
"I love how it's like a tree in transition. Life's always changing and moving," Beck said.
They thought the sculpture would complement the landscape and the industrial nature of the area — looking north, you see both the rail yard and the mountains.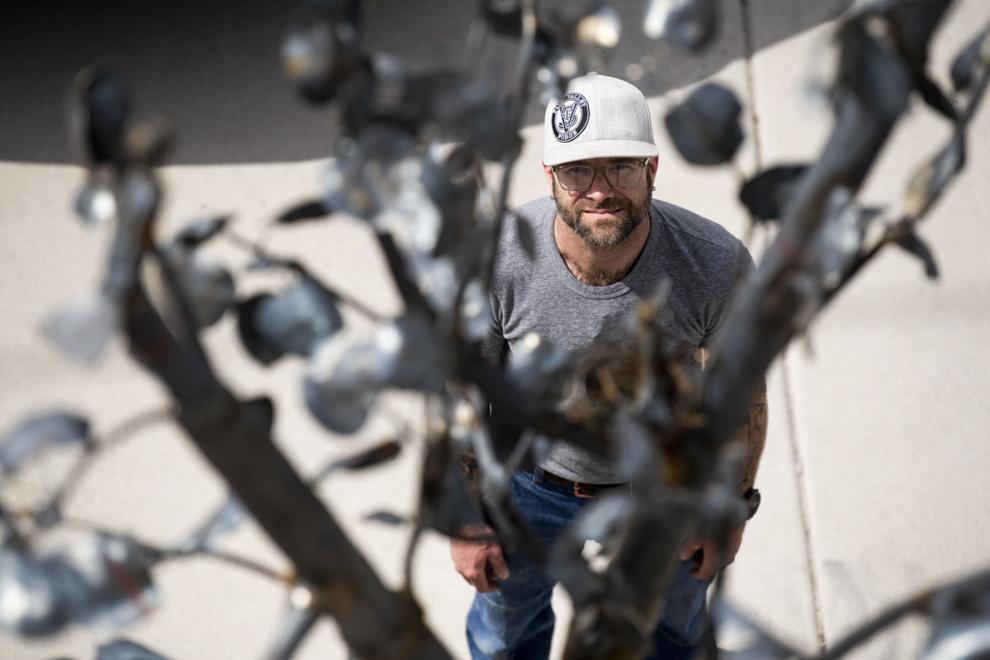 Kimpell, a family friend, said, "it's not just a piece," it's about friendship, history and growth and a way to "give something back."
And it will last a long time. The free-standing structure, which references aspens, is 17 feet tall with a gradually narrowing trunk, weighing almost 900 pounds. It's held in place by a metal plate and three helical piers that reach 7 feet deep into the ground. They're obscured by the metal root system and the rock landscaping on the property.
In 2016, Beck and her business partner, Walter Hailes of Freestone Climbing, purchased the block-sized building on 1200 Shakespeare Street and renovated it for their operations along with a few other businesses. Her space in the building is home to an aerial studio and a full-sized, adaptable theater for public performances of all types.
Beck's father, who died in 2015, ran several businesses around Missoula and donated to many causes over the years. He and his wife, Jane, started Western Door Company, a door and window retail business, and then a wholesale operation called Wood Specialty Company, according to Harold's obituary.
An Idaho native who loved the outdoors and woodworking, Beck's father "really came from nothing, and he was just determined to make it into something," Beck said. He and his brother, Wayne, once lived in a wall tent in West Yellowstone and cut down trees and dragged them to the lumberyard.
The trunk, whose surface emulates the organic curves of a live tree, has a heart "carved" into the trunk with an "H" and "J" for her parents.
While Harold had wanted her to go into the family business, she sought out her own route serving the performing arts community. Before he died, Beck said that he "came full circle and was like, 'OK, I don't get what it is you do, but obviously it's something good, so go forth.'"
The artist
Kimpell studied art at the Minneapolis College of Art and Design and the University of Montana.
His work is all around Missoula — in the '90s, he made a rectangular abstract metal sculpture for a client's front yard on East Spruce Street a block away from US Bank that still catches the eyes of passers-by. His metal handiwork is on view at Black Coffee Roasting, Drum Coffee, the Top Hat and more.
He also teaches local students in the art form.
"That's a passion of mine, to try to keep it alive," he said. Understanding metal work, you can learn "how to capture emotion" in a material that, while appearing so solid, can move easily if you know how.
He drew the tree in near-life scale to understand how a sculpture that large could be fabricated in his workspace.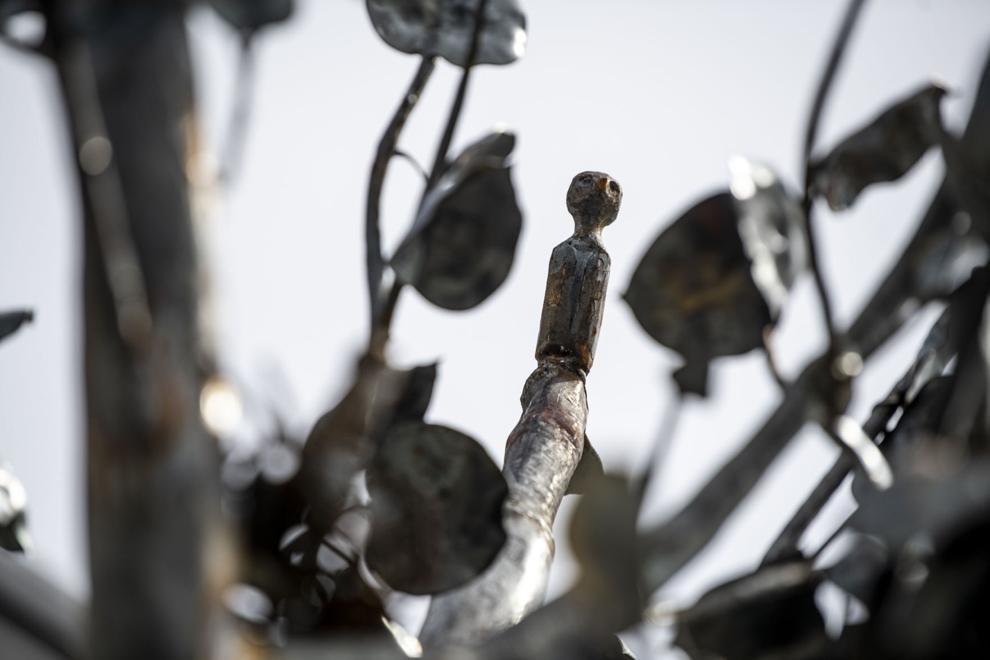 For this piece, he had "the freedom to express how I like creating" work — forging techniques, knowledge of the materials, and modern and Old World equipment and tools.
He made the majority of the tree by hand and hammer. The lines on the trunk, for instance, were made with custom hammers made especially for this project. He used a power hammer for most of the branches and the roots.
The piece was built in two sections. After installing the base, the top half of the tree was put in place with the help of an internal sleeve that held it upright until he welded them together — right now, there's a small seam that's turned ochre. The delicate leaves have Easter eggs hidden among them — a duo of birds and a small thatched nest.
Bringing the separate pieces to the site and welding them into place was "kind of scary, and yet exciting at the same time, because you're able to put together the way that you've drawn it and designed it, but you weren't quite certain exactly how it was gonna look until that moment," he said.