The hard part is over for Nic Fischer, and now another hard part has begun.
It's not unusual for artists to apply for residencies in Glacier National Park with ideas about making art and perhaps fitting in some hiking.
Fischer, a 34-year-old oil painter from Bozeman, proposed the creation of a large-scale painting commemorating the reconstruction of Sperry Chalet, the historic structure that was burned in an August 2017 wildfire. The vantage point he suggested was the summit of Mount Edwards, a 9,000-foot peak that juts above the chalet from Comeau Pass.
"Edwards is a beast," he said, and often times an "exercise in patience and not getting what you want." 
During his four-week residency in late August and into September, he logged more than 120 miles of hiking, including six summit attempts, of which four were successful. Of those, there were only two in which the weather was clear enough to paint.
Now that the hiking is completed and he's back home, Fischer has eight small plein-air paintings, plus drawings, photographs and maps, and will spend the months ahead on a project that's daunting in a different way.
His goal is a large canvas, measuring 7 feet wide and 4 feet tall, that combines views of the chalet on the right, and spans all the way to Sperry Glacier and its Mars-like moraine and Little Matterhorn Peak on the left, while also giving the viewer a vertigo-inducing look at the lakes below the peak.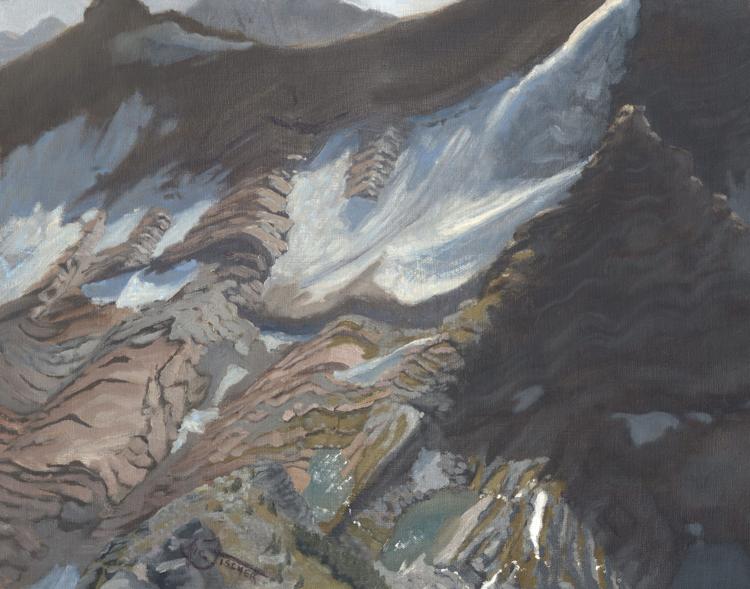 ***
He's completed a large project like this before, hiking in Wyoming to gather studies and information for a large multi-panel painting that stretches 8 feet wide and 4 feet tall that gives you a Google Earth-style view of the Teton Crest. 
Fischer, who moved to the Yellowstone National Park area when he was 18 to be a seasonal worker, did stints in Death Valley and the Grand Canyon, too, because he could work enviably close to hiking spots. He's been painting in oil for about 14 years, and studied for two years as a non-traditional student at the Savannah College of Art and Design in Georgia and called it good rather than racking up loan debt.  
Sonja Hartmann, the volunteer program coordinator in Glacier, said his Edwards proposal stood out, not just because of the timeliness of Sperry connection, but the high quality of his prior work. The park received more than 100 applications for three residencies this last year that went through three rounds of vetting, including an outside artist panel.
The Teton project took Fischer "hundreds and hundreds of hours" to complete, and the Sperry painting will likely take all winter. He's already logged more than a hundred, and he hasn't technically started the major painting. He needs to figure out how all the details, including accurately rendered peaks, fit together in that complicated view.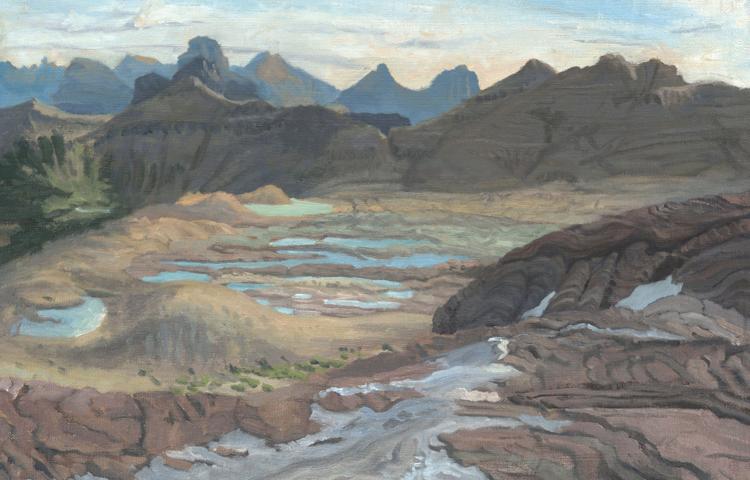 ***
His original proposal was to stay at the artist's cabin on Lake MacDonald. A volunteer program assistant, Billy Chapman, suggested setting Fischer up at a cabin near Sperry, where crews were working on the chalet. Fischer described it as a "brilliant idea" that spared him from slogging through a "murderous hike" every day. In total, it cut 12 miles a day from each attempt.
The summit attempts were complicated by his painting gear, and, of course, the weather.
A friend who worked at Mystery Ranch backpack company designed a pack just for him. It can fit his Pochade box, a fold-up easel and work station for plein air painters. That's also customized to fit three 13-by-16 inch panels to paint on. He also brought a portable palette, with oil paint squeezed out already so he didn't have to bring the extra weight of full tubes. All that gear, plus a tripod and water, went on his back, and topped out at 30 to 35 pounds. 
He had to choose his routes based on that heavy pack, since scrambling with weight is more complicated. Sometimes he had to lower his pack with a rope to avoid down-climbing with it on.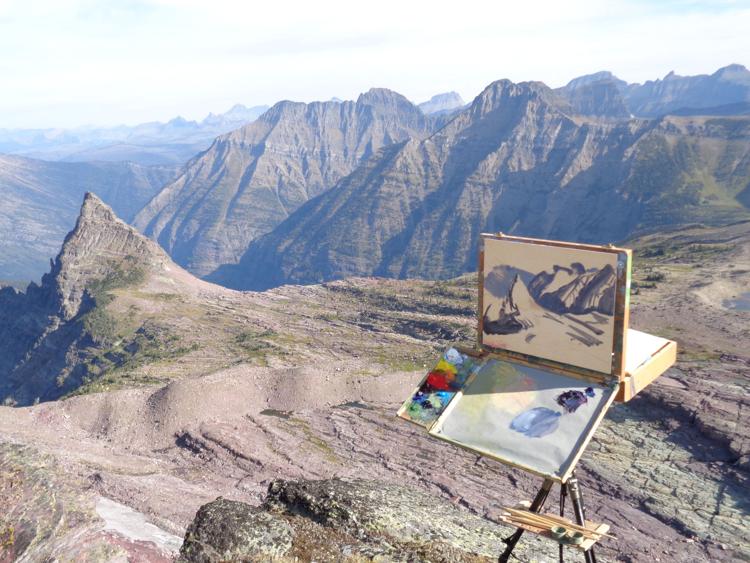 Finding a space to work was difficult, since the top is a narrow arete. "There's not a whole lot of places to put a human being and a tripod and a backpack," he said. It was windy, too, so when he would set up to paint, everything was tied to a bag filled with rocks and if necessary, himself and his pack. "It goes the wrong way, you're not getting it back," he said. Aside from the loss of materials and the inability to work anymore, "it's just littering," he said.
His typical routine was to get up at 5:30 a.m. or earlier, regardless of the weather. After a quick breakfast, he would check in on a park-issued radio and start hiking from his cabin to Comeau Pass, about 2.5 miles and 1,500 feet uphill, and arrive around 7:30 or 8 a.m. He'd then head over to a cliff band that leads up to Edwards. He might stop to paint if he liked the light and cloud over the area.
He checked with park rangers about the different routes available. On his first attempt, he got "cliffed out" at an impasse, and it was late enough that he decided to paint at a lower spot with a "an excellent view" of Little Matterhorn, a neighboring 7,800-foot peak.
On his second day, inversion settled in and never cleared out. He made it to what he thinks was the summit and was rewarded with "three hours in total gray nothingness." 
On the third try, he was greeted by an incoming thunderstorm when he reached the ridgeline and decided to come back down.
Day four was "a great success" and "everything happened as I wanted," he said. Some guidebooks put the elevation gain at 1,000 feet and a mile or a mile and a half. He said his first successful summit, according to his GPS device, was 5 miles, since he kept going back and forth to find a route that he felt comfortable with. He stayed up there until mid-afternoon, shooting hundreds of photographs in case he wasn't able to get a good view again.
The view, once he got it, was worth the false starts. 
"It's amazing," he said. "Synder Lake, for instance, is almost 3,500 vertical feet nearly straight down. Glacier's landscape is so abrupt and diverse. From a peak like Edwards, every turn of your head brings a completely different scene."
Edwards has two peaks, situated about a half-mile apart on a knife ridge and "most of it is sheer cliffs. There's nothing like spending hours at the top of such dynamic topography. It always makes me want to explore everything below on foot. Unfortunately, there's not enough time in one's life."
Instead, he'll be exploring it from home, trying to recreate the intricacies in oil.