Light rays will tell you the story.
There is another alphabet
Whispering from every leaf,
Singing from every river,
Shimmering from every sky.
— Dejan Stojanovic, "Forgotten Home"
When Heesoo Lee, a native of South Korea, moved to Colorado a decade ago, she became entranced by the stands of aspen forests that dominate the view. Taking a walk into the woods, where she was the only person around, she felt like there were "thousands of thousands of trees looking at me, because the knot looks like an eye." She imagined them as feminine beings, from young to old, and the wind through the leaves made it sound like they were whispering to her.
​"Whenever I get depressed, I take a walk to the mountains or go to the forest, or go to the mountain, or go for a walk or a hike," she said.
Lee has been living in Helena since she was a visiting resident artist at the Archie Bray Foundation for the Ceramic Arts. While there, she began hand-building highly textured pieces with aspen trees, capped by thousands of individual dot-shaped leaves, a time-consuming practice that she describes as meditative.
If you look closely at her pieces, you can see the knots resemble eyes, just the way she did when she was in the woods.
Lee, who started her career as a painter, thinks about negative space, contrast and balance, simplicity and roughness and delicacy, not unlike the contrasts you see in nature.
While her work is shown far outside of Montana, she's not yet satisfied and will continue to refine it.
"I just don't want to stop changing. I don't want to make the same thing over and over, so I always like to try something new," she said.
Lee is one of five artists in "Another Alphabet," a show at the Radius Gallery. The artists don't share much in common at first beyond an interest in nature. Unlike some group exhibitions, they weren't given a theme to work with. Co-owner Lisa Simon said they all display "a keen sensitivity to ways the natural world expresses itself. They are attuned to a visual language expressed through seasons, angles of light, cloud formations, textures of leaf, clay, and rock."
***
Mary Briggs of Eugene, Oregon, makes functional pots decorated with rustic, rural landscape scenes that reference 18th century painters from the Barbazon and Tonalist schools.
While she had a bachelor's and master's in art, she didn't learn much about these styles until she was researching landscape painters after college. They painted en plein air, and "romanticized the landscape in the midst of industrialization," she said.
She crafts them from eathernware, which she says was once considered a lower-class clay, compared to say, porcelain. She "paints" the scenes in the style of those painters, loose but pre-dating the Impressionists, with about 20 different colored glazes. They're apolitical, unless a landscape brings climate change to mind, and designed to be relaxing, "reminding us of nature. People are drawn to the natural world," and she thinks of these as celebrating them.
In fact, Briggs splits her time between ceramics and landscaping, particularly ornamental landscaping and plants. She gardens in the morning, and spends the afternoon in her studio.
***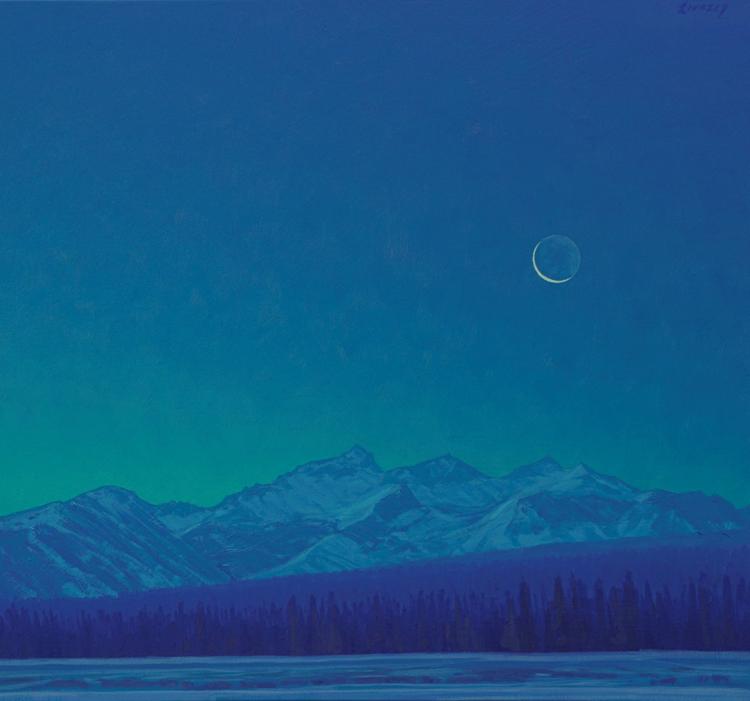 Helena artist Dale Livezey's paintings don't look anything like the schools that Briggs admires, but his paintings of the landscape share a reverence for it.
He minimizes any animal or human element and enlarges the scale of the Big Sky during magic hour. In a previous interview, he's said that particular solitude "connects you to the land" and "connects to the spiritual," not in a religious way, but an "undefinable connection and belief in the wondrous connection to our lives."
He often works in the evening, when he said the transition is brief — the light hits a perfect moment "and then it's dark."
***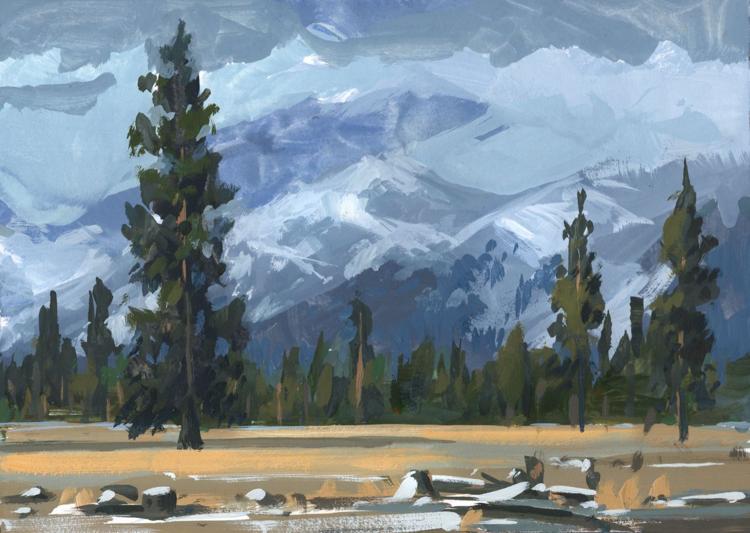 Jared Shear, an artist from Thompson Falls, also displays an appreciation for nature cultivated by time spent. He paints en plein air, capturing views of the Mission Mountains, the Bob Marshall Wilderness and more. On small canvases, 6-by-6 inches, he evokes the feeling of someone standing on site, and the particular way light and cloud cover can change the mood of the landscape. (To give an idea of how practiced he is, in 2007 he painted Cougar Peak every day for a year, the results of which were shown at the Missoula Art Museum in 2013.)
***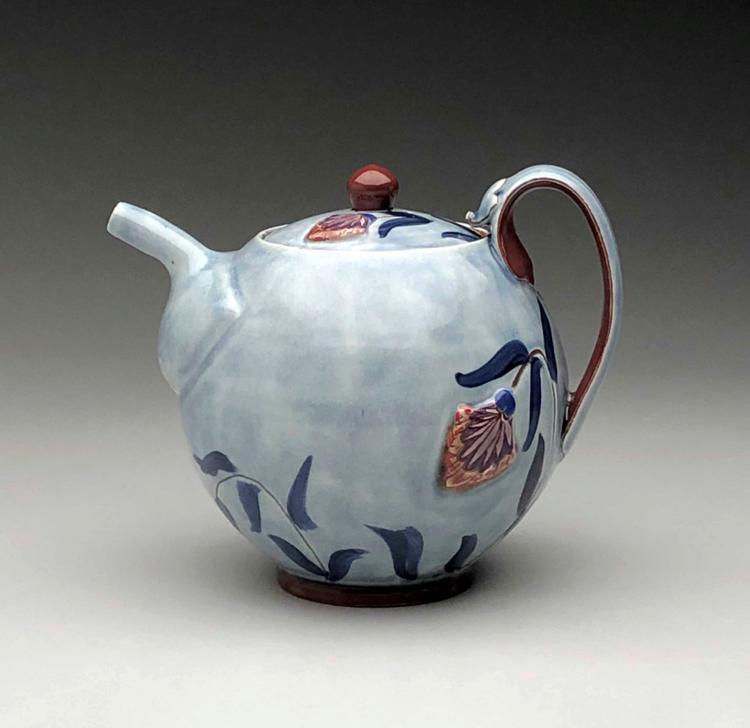 Ben Carter, who grew up in southern Virginia, is also a resident artist at the Archie Bray. Outside of Helena, he's earned a national ceramicist of the year award and has a podcast in which he interviews artists about their craft.
His pots are decorated with floral designs that are rooted in Appalachian quilt designs.
"I think of it as the jumping-off point. Almost like a compass, I keep coming back to it," he said. They're blended with Silk Road and Islamic traditions that he studied while running a ceramics center in Shanghai. In massive Chinese scroll paintings, humans are depicted as very small compared to "the grandeur of the natural world." He also draws on the dense patterns of Turkish pottery, situated halfway between Europe and China on the Silk Road. Also there's the division of space on Islamic Iznik pottery.
In the 1500s, he said there was a prohibition on producing images that could be considered an idol. So instead of other people, you're more likely to see dense and complex patterns. The "central metaphor is that an infinite god or infinite universe can be displayed through a pattern that does not have a beginning or an end," he said.
His connection to nature, beyond the floral decorations, is more submerged. He grew up in a family of farmers with a strong work ethic, part of the reason he makes pots, cups and vases — functional and useful objects that also happen to be art.