Ednor Therriault has been more widely-known as his alter-ego, Bob Wire, a honky-tonk wild man who has been barnstorming around the state for more than a quarter century.
Over the last decade or so, though, Therriault has been earning a solid reputation as a writer under his own name, as a chronicler of Montana.
"Montana Curiosities," Therriault's first book, came out in 2009. It became the best-selling title in publisher Globe Pequot's "Curiosities" series. Next came "Myths and Legends of Yellowstone" in 2018.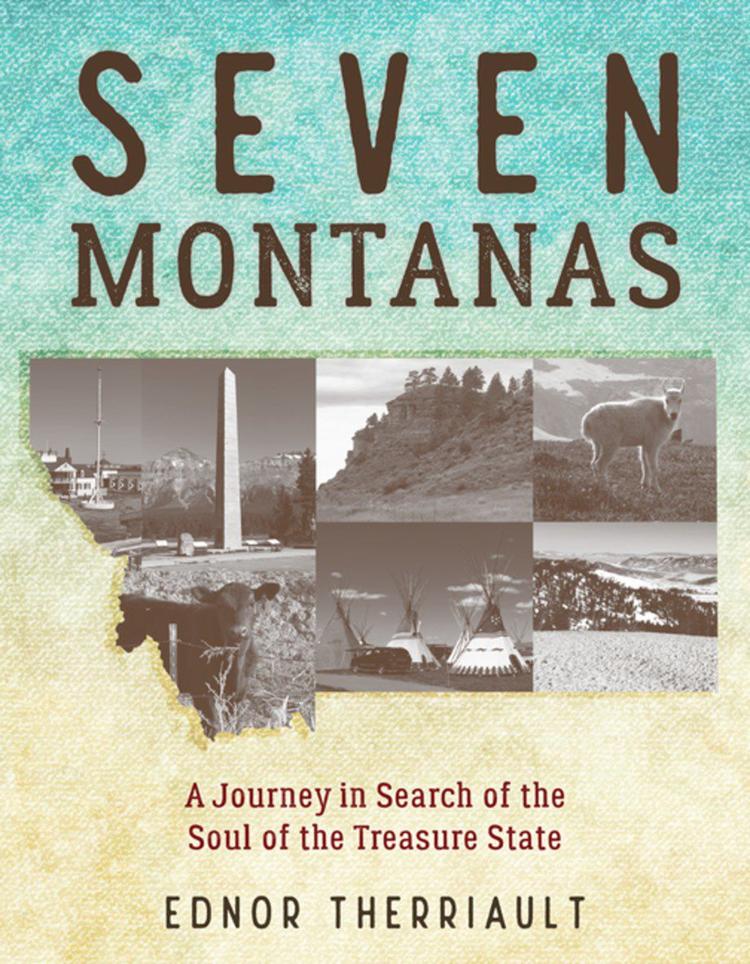 Most recently, Therriault published "Seven Montanas," a book featuring a wonderful mix of facts and personal anecdotes from around the state. In typical fashion, it is at its best when Therriault mixes his reporting with his dry-as-Wibaux humor.
As in his past work, Therriault's "Seven Montanas" offers the reader a perfect travel companion for poking around the state, whether the reader is experiencing it roadside when taking a rest stop or never going beyond the recliner in the living room.
Q: My dream growing up is that I would be a rock star, but write books on the side. You've essentially achieved that. Is it as awesome as I imagined it would be?
A: I think anyone who ever picked up a guitar dreamed of being a rock star. I never reached that level, of course, but I did hear a Missoula DJ say I was "world famous, locally." I honestly can't put my finger on how well-known Bob Wire is or what people may think of him, but I don't lose sleep over it. What matters is that I'm a rock star in my head. I took an interest in writing early on (I won a poetry contest when I was five), and it always seemed that writing was a more realistic goal as far as making a living at some creative pursuit. Music is my deepest passion, though, and I've kept performing and writing music since my college band days. Playing in front of a crowd, whether it's two people or 3,500 people, is almost always a major high. I need it. It's probably saved me a ton of money in therapy.
As for balancing a music career with a writing career, it's never boring — it can lead to some crazy situations. Occasionally I'll get a request to do some kind of "celebrity" thing, but 99 percent of those requests go to Bob Wire, not to Ednor. I'm still struggling a bit to get out from under the shadow of this fake persona I've cultivated for 25 years. For instance, last week I had a reading at a bookstore in Bozeman and nobody showed up. Nobody. I went ahead with my program for two apologetic employees. Afterward I grabbed a six pack, some fried rice, and went back to the motel where I watched an Elvis movie. Hardly a rock star after-party, but it wasn't a pity party either. I can't control what other people do. Two days later I played a solo show as Bob Wire for a large group of enthusiastic residents at a local assisted living facility, and it was raucous! Made my heart soar. The next night I played a four-hour bar gig with my trio, and we just killed it. We had a blast, and the compliments were flowing all night. My ego tank was more than refilled.
It's important for me to point out that I'm extremely lucky to be able to do what I do. These are not particularly lucrative pursuits, and it helps that my wife has a grownup job with health insurance and things like that that a lot of working musicians can't afford. She's fully supportive of my creative life, and I give her a lot of credit for whatever success I've had. It's a rare partnership that I don't take for granted.
Q: You have found a nice space to work in as a writer, telling these stories about Montana. Aside from the sheer geography you have to cover, what is the most challenging aspect of the work?
A: One of the things that used to be daunting to me was approaching strangers all over the state, always being the nosy outsider with a notebook and a camera. What I discovered was that one thing that pretty much all Montanans share is an openness, a genuine welcome once they find out what I'm up to. Everyone has a story to tell, and most are eager to tell it. They're just waiting for someone to ask. There's almost a cottage industry of books of all types about Montana, so the challenge is not just in finding unique stories, but also finding ways to examine some of the more well-known issues in a fresh light.
Q: Many people around the country have weird ideas about Montana, based mostly on the events of the '80s and '90s — the Unabomber, the Freemen, even the "no speed limit" period. If you were to sum up Montana in a broad brushstroke, what would you say?
A: The title of the book alludes to the idea that Montana's geography is so diverse that it could be divvied up into seven states. The thing that goes hand in hand with Montana's vast size is the variety of terrain you can encounter driving through the state. We have it all, from mountains and valleys to desert-like regions, prairies, rolling hills and badlands. The geology is breathtaking, from Blodgett Canyon to Makoshika State Park. To characterize Montana as a big square western flyover state is just wrong.
Q: Your work fills a niche that is culturally ancient. I'm thinking of traveling bards, who would come into a town, bringing songs and stories, and pick the same up to carry along to the next town. That seems to be what you do in the combination of your music and in the gathering of material for your books, only the medium of delivery to the people — the publishing industry — is different. Does that idea of your role ever cross your mind?
A: This is really an interesting question. I don't often think about the historical perspective of what I'm doing. Although I take the work — and the music — seriously, I don't take myself that seriously. Things like the Bozeman no-show reading keep me humble, too. I guess this combination of music and storytelling does have a lot in common with those troubadours and bards who traveled from one village to the next, delivering and picking up news and songs. I usually try to double-dip on my jaunts around the state by booking a music performance to piggyback onto a reading, or vice versa. I find myself playing small community gathering spots like breweries or retirement homes or the odd house party. It's easy to forge a connection in these more intimate settings, and I never pass up a chance to learn some local history or listen to an interesting story that I can bring back home with me. All these stories I tell and the books and articles I write are really kind of an opening, or an opportunity to invite further exploration of people's lives all over Montana. The more I travel around, the more I'm convinced that there is an endless supply of material out there.