A colorful cyclone has been brewing, piece by piece.
Earlier this week, Elisha Harteis, a Missoula ceramic artist, was up on a scaffolding hanging some 587 porcelain spheres in a swirl suspended from lines on a metal frame in the skylight of the Radius Gallery.
There's mischief at work among the friendly pastel tones. Small white earthenware bunnies, a colony of 15, have spread out through the twister.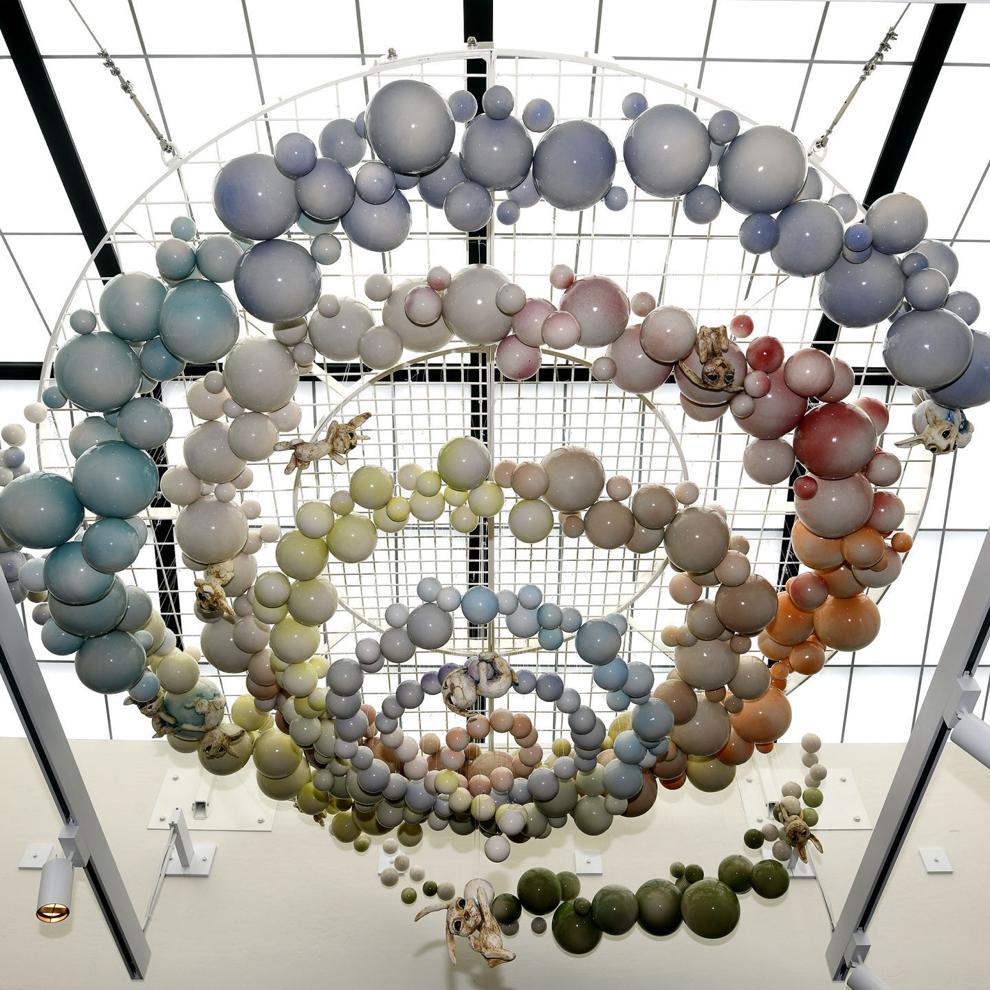 At the descending eye of the spiral, one dangles from the terminal circle, clinging with its front two paws. Elsewhere one is hanging upside down, its rear two legs clutched to the sphere. Another is suspended mid-air in a heroic leap from one ring to another, or maybe it's caught in the flow of air, if you imagine that it's a tornado. One agile rabbit found its footing and is perched upright.
This piece invites you to make up your own story, likely a playful one. You could imagine that the bunnies "release these bubbles into the environment and they're messing with the natural flow" of the twister, she said.
Sometimes her work comes with undercurrents of sadness, but "this one was super fun. I mean, those bunnies are total jerks," she said.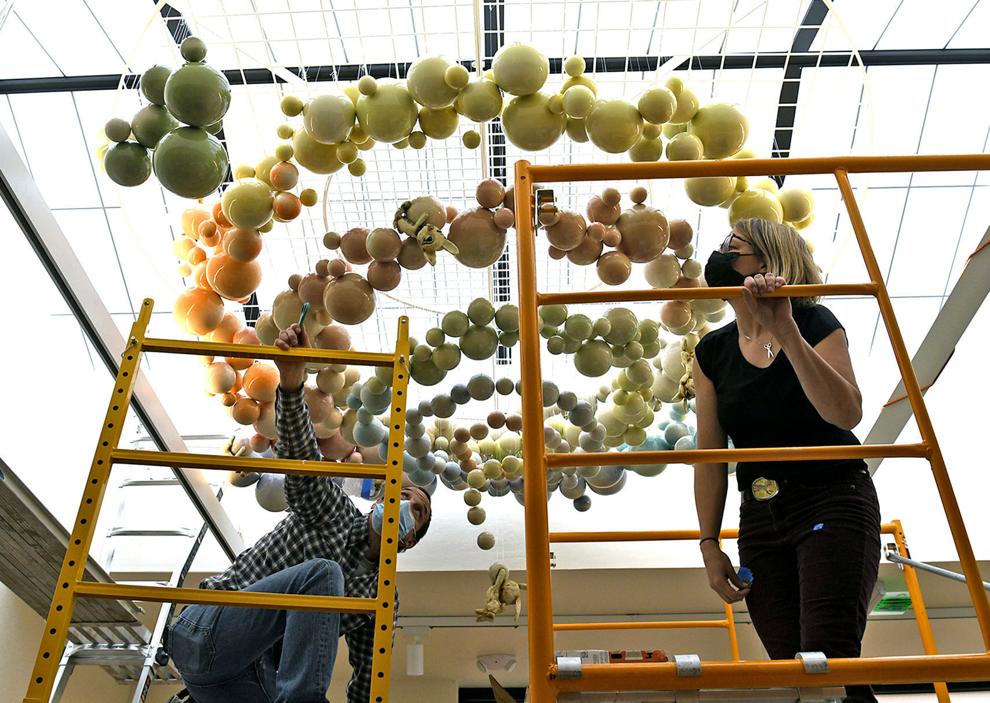 A permanent piece 
The commissioned piece, completed this week, will be on permanent view in the second floor gallery, which is focused on ceramics.
This is her eighth installation with the sphere motif, after about eight that were displayed around Montana — E3 Convergence, the former Zootown Brew, Radius, and more. They've been a theme since 2015, around the time she graduated from the University of Montana, followed by artist residencies around the state, including one at the Clay Studio of Missoula that ended last year. Harteis started with a circle motif in a photograph and then adapted it into her own visual language.
"It's just been an inspiration to make that in clay ever since — all the different avenues you can go with it," she said.
The sheer volume of small elements that make up the piece is a recurring trait for her, too. She likes "the inundation of numbers," going back to her bachelor of fine arts show, which comprised more than a hundred clay ice cream cones and a 6-foot-tall bunny.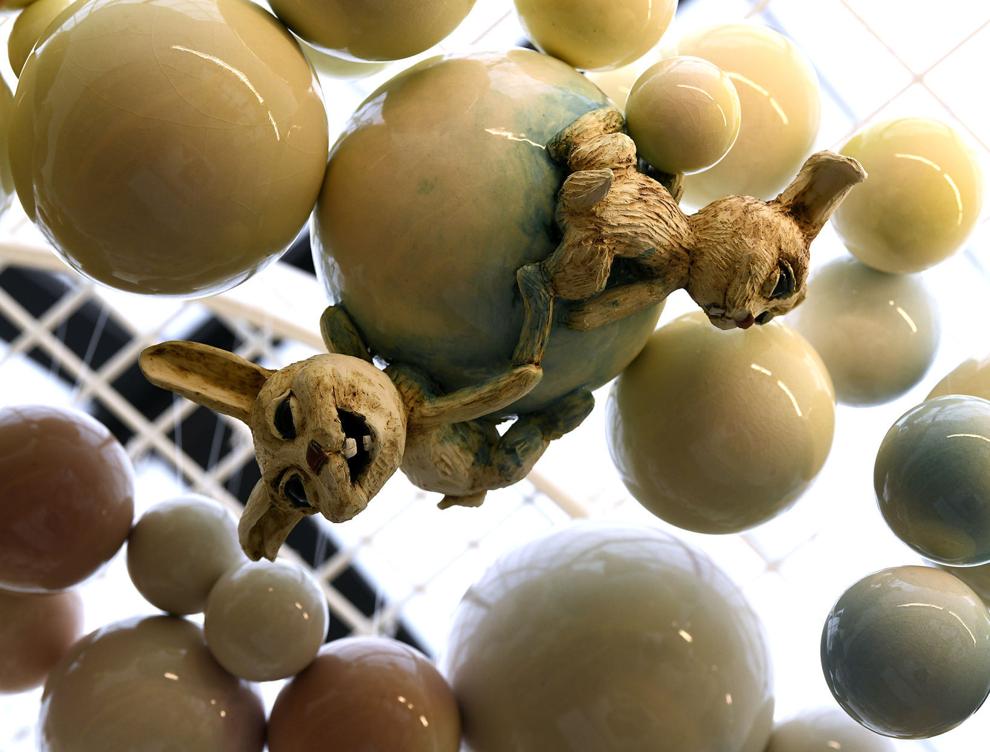 "I've been trying to overwhelm people with way too much information and colors and brightness," she said.
They're a vehicle, though, for introducing some darker elements to "offset that sweetness," she said. The figures in her work — children, animals, or children in animal costumes — can have a layered effect on the viewer.
Both candy color schemes and the characters relate to inspiration from childhood books, movies and TV shows, like "Watership Down," "The Neverending Story," "The Dark Crystal," and creators like Tim Burton. She loves the rainbow, corny as it may sometimes seem, how it's "always referencing that sweet part of your childhood … and then you can put a twist into it," she said. The brightness invites viewers in, then a little bit of reality hits them.
"My goal is always to get a reaction from somebody," she said. It might generate a purely internal response, or spur a discussion.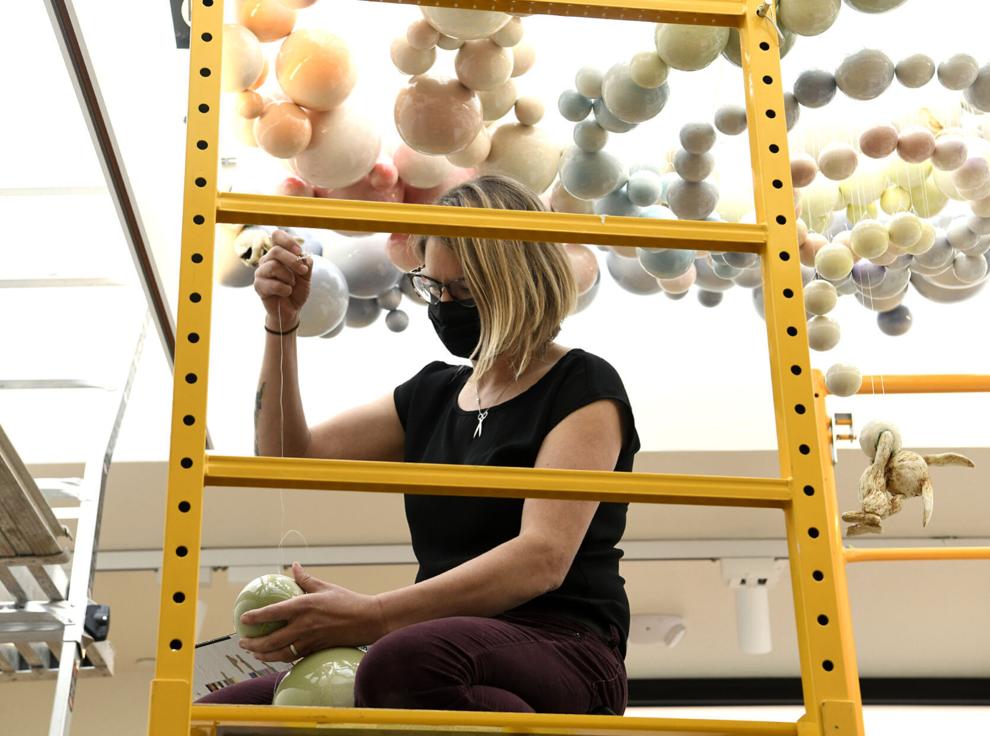 Process and installation 
Harteis has shown works at Radius before, and co-owner Jason Neal has been trying to help her find venues for installation work. The building's owner, Brian Sippy, met with her and she shared some of her ideas for a new piece.
All the apparent chaos those rabbits stirred up has been carefully choreographed through its design and then vetted by building professionals before the final push to install it in a public space.
She designed it using SketchUp, a 3D design program, down to the last sphere. Some of the people who contributed heavily include her assistant Mari Rizzuto, a University of Montana art student. The hundreds of bubbles come in seven sizes, from 8 inches to 2 inches, and each one had to be molded, fired and cleaned up — lots of smoothing, sanding and spraying glaze.
Caleb Nelson was a key player on the gridded frame that holds the many pounds of spheres. There were meetings with people who worked on the building to ensure its safety. There had to be a battle plan to install it, with help from volunteers to measure and string them for the install and turn the SketchUp model to life in the skylight.
"There's no way this would happen without all the help we had," she said.
She hopes to keep doing more installation work. Right now, Allez!, the temporary exhibition mural space in the alley facing the Merc Hotel, features one of her pieces, a new body of work of hers, where the spheres appear to be half-submerged in a 2D surface. She's doing another piece for the Allez! in the future.