Think of the phrase "functional ceramics" and what might come to mind are cups, bowls and vases.
Don't forget pipes and bongs, though. "High Fire," a new show at Wildfire Ceramic Studios, a not yet-year-old gallery and working space in Missoula, gave local ceramicists an opportunity to experiment with the form.
"It was really fun for everyone to just … reframe how they think about their practice in a new way," said Sarah Conti, one of Wildfire's co-founders.
Some pieces are serious, with celebrations of the female body, or environmental concerns, while others are humorous, such as a ceramic dumpster bong that sold immediately.
It's a more light-hearted show than usual for Wildfire, which opened last summer. Ceramic studios require space and equipment — both expensive, and the former elusive in Missoula's tight rental market. Their space located on Murphy Street off West Broadway gives them room to create and exhibit.
Due to the pandemic, gallery space is normally open only on First Fridays, when they can open a garage door and people can visit in the parking lot. Last month's show was wood-fired ceramics, and May's is sculptural.
As artists, and as a gallery, they felt there's less taboo around the idea as states, including Montana, move toward legalization of recreational use of marijuana, so they asked artists if they'd like to try one out. The enthusiasm is apparent with the array of pipes shaped like fingers, birds, vulvas, fallopian tubes, some abstract with color, faces, along with ashtrays.
Most of the participating artists make functional work — often quite stylized and sculptural — but few had made a pipe before.
"A lot of us had a lot of fun," Conti said. It was a chance to translate their style, like a sculptor's version of a mug, she added. As an example, she's a figurative sculptor whose work is often rooted in ecology and environmental and social issues, with dead birds as a recurring motif not just in a literal way, but a stand-in for humanity.
For "High Fire," she crafted deceased hummingbirds that have a similar delicacy to a live creature. Except they are pipes, and their tiny black beaks can be removed and used as a poker. Hers are more likely to be used on special occasions, and some people bought pieces from this show just as art objects, not for any heavy use.
Conti said in art school there's the "bliss" of making whatever you want. After graduation, they have to find a way to balance work that stays true to their ideas and also supports them as well.
Many of them are "amazing artists" who make large-scale, complex pieces, she said, and this particular show is a way to offer something tangible and affordable.
Stephanie Dishno, another sculptor and co-founder, makes work that's related to the body — female figures, often at large scale. One life-size piece at 8 feet tall is on view in the studio, from an MFA show at the University of Montana in early 2020 that featured other physically enormous pieces. Last December, she began creating small functional pieces, also based on the body, such as cups based on the human head, and Christmas ornaments.
Her pipes for the show are vulvas and fallopian tubes, a "really fun way to celebrate the female body," Dishno said. Or women from the torso down, seated as though on the ground, legs crossed or lounging and a flower-shaped bowl.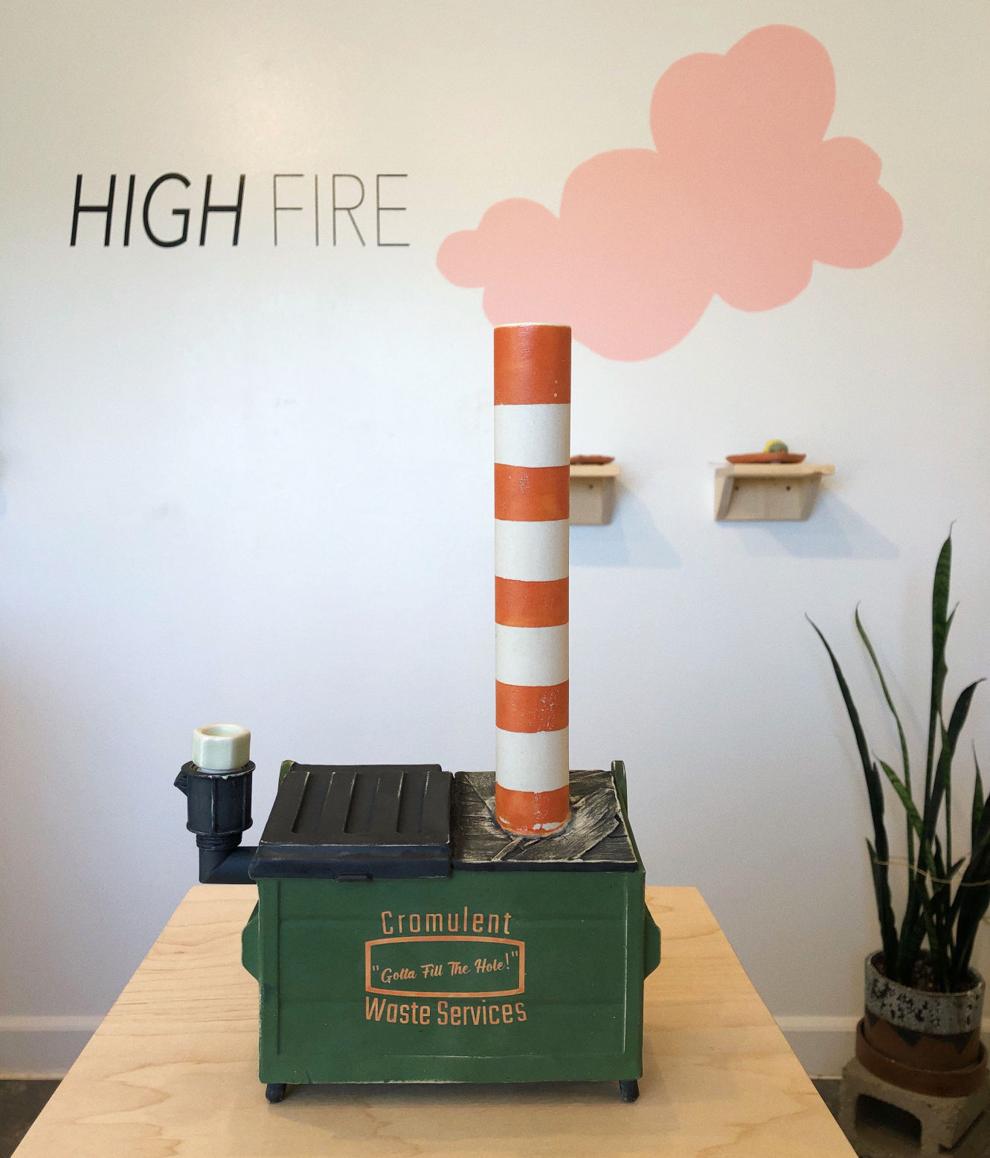 A dumpster bong?
About that dumpster bong. It was made by Lee Stuurmans, a Missoula ceramicist. He originally collaborated on a ceramic dumpster with Jack Metcalf, when the artist had a closing party for his Real Good art space in 2017. Stuurmans kept the mold for the trash disposal unit, which is "well within the popular lexicon these days," he said.
He likes Wildfire's setup — it's a younger generation of artists creating space and opportunities for themselves — so he put his particular technique to work toward firing up commissions.
Stuurmans uses slip-casting, an industrial process that employs molds to make a single object consistently (think about your porcelain dinnerware or fixtures), allowing him to think in terms of modules. One piece can be added to another. To convert the dumpster to a bong, he needed to add a smokestack and a bowl.
Initially, he wasn't sure about its sales potential — they're time-consuming and cost $250.
This dumpster isn't representative of his usual aesthetic though. He likes going to Home ReSource and finding different objects that can be modularly assembled into a novel creation — like a teapot's body, spout and lid. He has made pipes and bongs before — such as a slipcast Erlenmeyer flask with a brass plumbing fixture and electrical conduit as the bowl and stem components.
He compared it to working with Legos, but it's more complicated than snapping things into place, though. It required trial and error and some grinding to make sure they had a perfect, functional seal.
At the First Friday opening for the show, about two-thirds of the inventory, or some 35 pieces, sold, and they restocked for an opening again on April 20. They're considering making it an annual show.
The bong went up for sale at 5 p.m., and someone came by at 4:55 p.m. He has four more in progress. "It's just been a mad dash, I frequently underestimate how long those things take," he said.