There's a curious juxtaposition to Mack Bayne's work, which is very much look, but don't touch, despite how fuzzy the sculptures, or cute the ceramic beings are.
Her eight-piece series, up as part of the BFA exhibit at the UC Gallery, features Seussian towers and shelves, which are covered in a collage of bright, fuzzy yarns, each adorned with one or two ceramic blob creatures, whose doughy, vague bodies tumble or spoon each other or recline.
"They're so round, they're so clumsy looking, they look like they'd want something to catch them if they fall," Bayne said. "So pathetic that they're cute."
Bayne focuses on ceramics, but after taking a fiber-sculpture class has toyed more and more with using fabrics and other materials in her work. Earlier in the year, a crafting video of a woman putting yarn over a foam cat gave her a spark of inspiration.
"I just took that process and ran with it," Bayne said. "It just turned out more fun than anything else I was working on."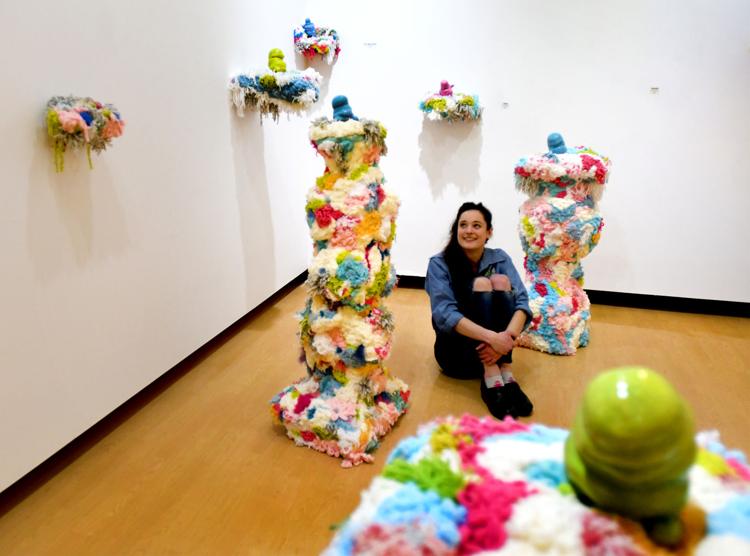 She started sourcing Styrofoam from the garbage, using packaging or old foam coolers to build up winding towers or cliff-like shelves. Then, using a seam ripper, she punched fuzzy yarns into the foam one strand at a time, covering the foam with a variety of colors and textures in a fabric collage.
"I kind of just let that sense of touch and the way things are interacting together guide my next move," she said. "It's all about finding the balance between too much and enough."
Bayne watches garage sales for old fabrics or yarns that she can use, but sourced materials for her BFA series largely from JoAnn's Fabrics, in order to have enough of each yarn to cover her eight pieces.
The only found pieces she used (aside from foam) were plastic stamen from fake flowers she yanked out and weaved around the yarn for another tactile pop.
The goal is escapism, through whimsy and imagination and creating a world that wouldn't look out of place in a picture book. Like, say, a Dr. Seuss book, a comparison Bayne gets fairly often.
"I really embrace that," she said. "I like that people get a playful reference from it."
The next step would be to create an art installation inspired by these tactile fabrics and cute creatures that could be more interactive, look and touch, if you will. Fitting, given Bayne's color schemes that are sourced from ASMR slime videos (yes, look it up).
"I kind of want people to walk on it," she said, reaching a hand out to a strand of bright-green yarn.
***
No matter how much work you think went into Jon Green's massive ceramic sculptures, it's likely more.
Green has a total of seven pieces on display, with four clocking in at over three feet high, and a couple feet in diameter at spots. "Blue Boy" and "Paradox of a Parasol" are based off of table legs, with rounded curves and blocky tops fit to be glued to a tabletop.
These sculptures represent, not Green's first attempts at large-scale ceramics, but, by his own admission, "the most successful attempts."
He's been intrigued by the format and given UM's huge kilns, he has been free to move as big as he wants under professor Trey Hill. But it's taken a bit of self-control to make entire, unbroken pieces.
"It's a challenge, it's a practice of problem-solving," Green said.
Some pieces come out cracked, or broken in half. Sometimes that's reparable (like the hanging "Nautical Buoy," which broke at one point) and sometimes it requires a piece to be glued together from separate parts.
"Not that that really matters," Green said. "It does not impact the work in the end."
Especially not Green's, which are elaborately glazed and painted in pastel hues, based on fabric designs he culled from a book of Latin American colonial prints.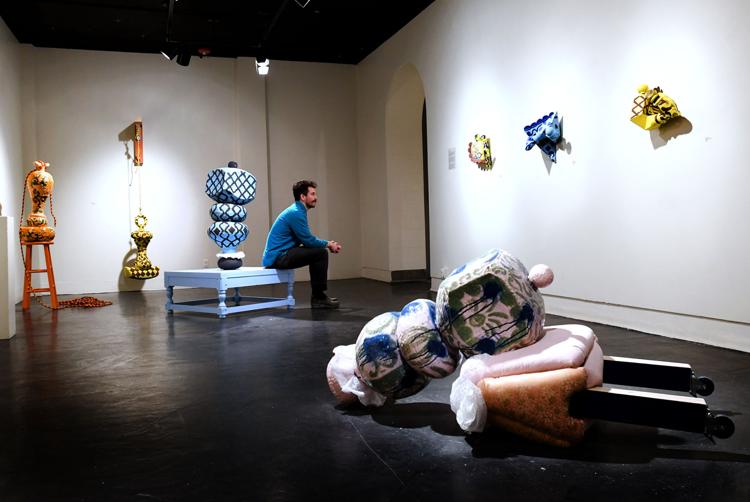 Those patterns exhibit traditional Latin American designs and colors, mixed with their colonizer's influences.
"This idea of self-elevation and where we come from as Americans," Green, who is Mexican-American himself, said. "We're a land of immigrants and a culmination of different cultures."
Green is also inspired, like many ceramicists, by the meeting of form and function. But, rather than toy with practical ceramics like cups and bowls, he creates those giant table legs, based off of a real table propping up "Blue Boy."
That is contrasted with "Paradox of a Parasol," which features a pink-hued leg leaning against an upholstered "parasol," made of fabric, lace and wood.
The final pieces of his exhibit are a series of three "Object Paintings," though they themselves are also ceramic sculptures. The three feature angled, broken table legs wrapped around scalloped sconces, each hand-painted with patterns again inspired by colonial Latin American prints.
Although the three are more complicated visually, in their angled twisting way, Green said they were much easier than his large-scale pieces; hence the idea of them being object studies.
"I look at these more as paintings than sculptures," he said.