New exhibits opening
Missoula Art Museum
Sometimes the calendar aligns just right and the MAM is rotating out multiple exhibitions at once.
If you head over this week, you can find a new exhibition by Lillian Pitt, "Honoring My Ancestors," that explores her Indigenous heritage in the Pacific Northwest. The work consists of glass-cast masks, bags and prints.
In the main gallery, an exhibition surveying the work of the late Rick Bartow is opening on Friday. "Things You Know But Cannot Explain" explores the abstract-expressionist paintings Bartow produced before his death in 2016.
Upstairs, you'll find "From the Ground Up," an exhibition of postwar crafts work made in Montana. It includes large pieces by Peter Voulkos, Rudy Autio and Nancy Erickson. Ken Little's "Trophy Room," a showing of found-object sculptures, went up a few weeks back.
The MAM is open from 5-8 p.m. on First Friday. You can also take a "sneak peek" at the new book of portraits from Eddie's Club regulars.
Robert Moore and Kevin Red Star
Dana Gallery
Two artists who have won awards from governors in their states are getting paid tribute at the Dana Gallery.
Robert Moore's rich palette knife renderings of the Idaho landscapes have hung at the Dana for years, as have Crow artist Kevin Red Star's expressively rendered imagery of Indigenous people. 
The gallery is open from 5-8 p.m. on First Friday. Red Star will be in town for an honoring and open house on Oct. 19 from noon to 3 p.m. 
Carol Marshall
4 Ravens Gallery
Marshall, an alum of the Rocky Mountain School of Photography, has focused on photographs of pressed leaves in her exhibition, "Senescence."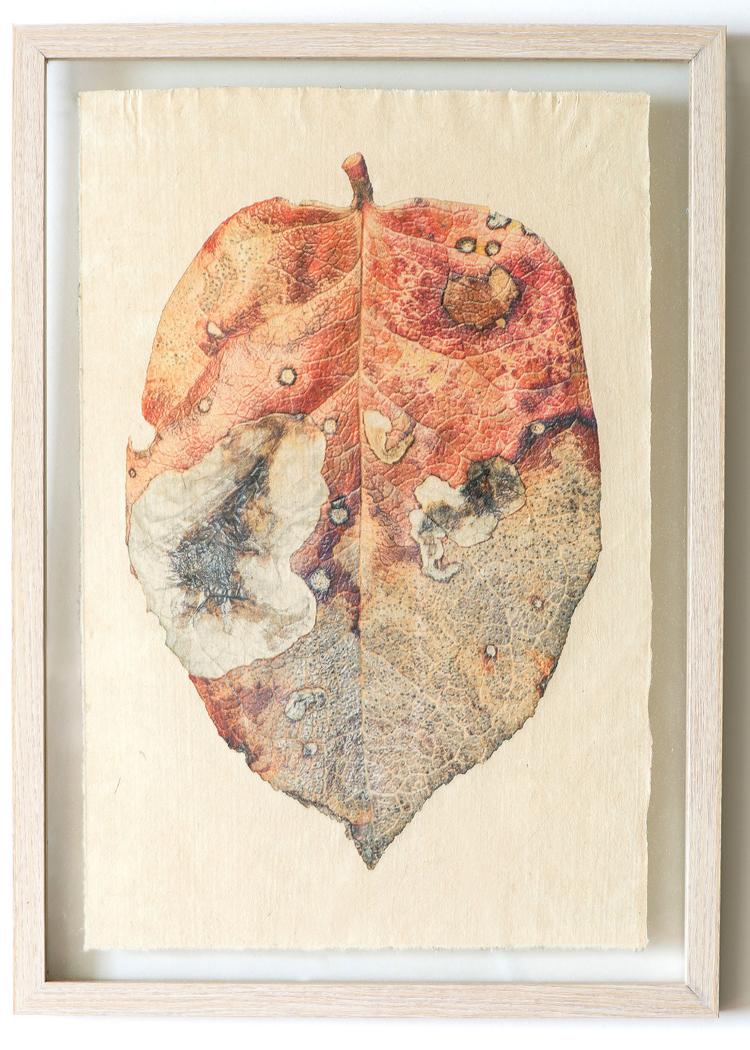 The pictures, "illustrate appreciation for the cycle of life.  Each leaf is unique, affected by light, moisture, and mold. The process of senescence produced unlimited variations of vivid color, and texture, and decay."
The show is open through Oct. 27. The First Friday reception runs from 5-8 p.m.
'atoms of our frame'
Radius Gallery
Three major Montana artists are showing at Radius. Ceramic artist Josh DeWeese has contributed lushly decorated large vases and jars. The show also features printmaker John Buck's sprawling woodblock prints with intricate designs and ceramic artist Beth Lo's pieces made in memory of her late mother.
The show is open through Nov. 2. On First Friday, stop by the "Sidecar" gallery next door to check out work by April Werle, whose bright, pop-inspired work can be seen in a new mural at Drum Coffee's South Avenue location.
Benefit auction
FrontierSpace
This alternative gallery, which showcases experiment-leaning art, is holding its annual benefit art auction on First Friday. The nonprofit space is run by graduate students at the University of Montana School of Art, although the gallery is not directly affiliated with the school. That means they run the program themselves and pay their costs out of pocket. Proceeds from the auction help keep the lights on for challenging art in downtown.
The auction is open on First Friday only, from 5:30-9 p.m., in the alley between Sushi Hana and Thomas Meagher Bar on West Pine Street.