You never know what you'll find in a secondhand shop in Montana. Ken Little found something that started a 40-year series of sculptures.
He constructed his first sculpture from a taxidermied animal head in 1979, as a studio experiment, and has grown it into a body of work in private and museum collections around Montana and farther abroad.
A native of Texas, he'd moved to Missoula in 1974 to teach ceramics at the University of Montana with Rudy Autio, a nationally known figure in the art form.
However, Little had grown frustrated with the medium. He describes his work as "very wild," made from different media, not just clay. He built ambitious sculptures with rope, hay, candles and wax. It was attracting national attention, yet it was difficult to ship out of state — it might break in the crate en route.
He became a regular at secondhand shops like Marcus Wolfe's store, where he began buying things like mannequins to see what he could do. He tried out shoes, cups, old furniture.
"I also found this old taxidermied deer head that somebody had left outside, and it was partially rotten, and the eyes had fallen out," he said in a phone interview this week.
He enjoys filling his studio with items like these and seeing what can happen when inspiration strikes, "something I couldn't have thought of" otherwise might emerge, "kind of an odyssey every time."
That was also a time around Missoula when "you could regularly pull up to a stop sign and somebody would have a deer over their fender," a thought that was circulating in his mind.
With that deer head, he thought he'd try to "restore some sort of dignity, because it had been so abused, and in my own twisted way, I sheathed it in Lucky beer cans, because that's what hunters used." The cans, with the brand logo in red and green, are flattened like armor.
The eyes were beyond repair, so he painted a very human-like set to affix in their place. He also "cut up this old boot, and started to put it up to the nose, and I thought, 'Holy sh--, I'm putting the animal skin back on the animal,'" he said.
He made a few more deer heads and then showed them to friends to get their thoughts. Instead of the visceral reactions he'd expected, they were enthusiastic and asked him whether he'd like to see one in the wild.
"I said, 'No, I really wouldn't,' 'cause to me they were Frankenstein creations, sort of scary and macabre and gruesome," he said.
He's continued making them, and they're vastly different than that first one, titled, "Luckyken."
A number of them are on display at the Missoula Art Museum for an exhibition, "Trophy Room."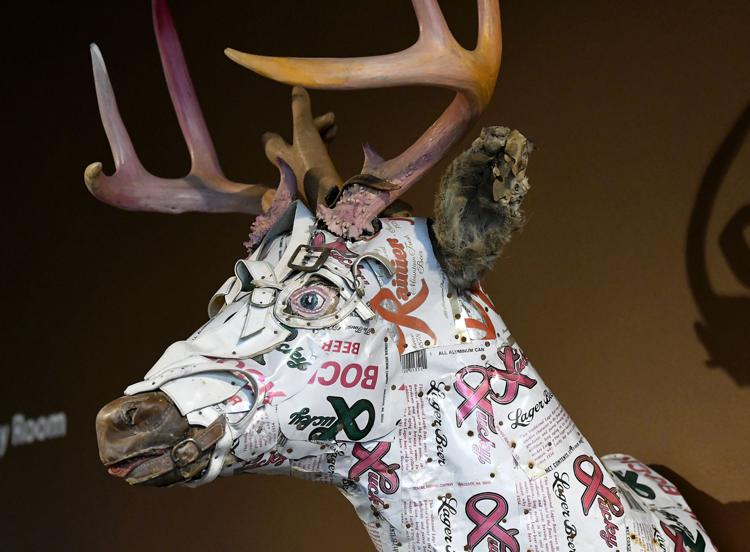 "Luckyken," is the oldest, and the newest ones were made last year. He says they've developed in tone: "They have a sense of humor and a sense of irony and a certain sense of beauty."
Little, who recently retired from the faculty at the University of Texas in San Antonio, doesn't make them out of a base of a real taxidermied head anymore. He crafts them to look that way, but they are constructed from many other thrift store finds: "shoes, boots, belts, ties, clothing, electrical cords, everything I could find."
The newest ones in the show, "Patsy," and "Turquoise Buck," give an idea. With all those materials, he's made a pop art-palette of bright blue, primary red, pink-on-black leather. The cords and belts dangled. Two shoes jut out at angles to form the ears, just below the real white-tailed deer antlers.
While he hasn't lived in Missoula or visited in a long time, he's popular with collectors who've bid on the heads he's donated to the MAM's annual Benefit Art Auction. The show at the MAM consists of pieces from the artist or local collectors who loaned them, or the MAM's Permanent Collection.
Those include "Merrimac," a blue boar decorated with similarly toned shoes, standing atop the Confederate ship of the title. The boar is life-sized, and Little has shied away from larger animals, like a full-bodied bear or the head of a bison.
John Calsbeek, the MAM's associate curator, said the sculptures reward thought, particularly if you want to take a deeper dive into Little's other work: sculptures made with neon signs, animal masks and sculptures from cast bronze, huge sculptures of suits or chairs made from money, or pages from the Bible or dictionaries.
The bronze works, Little said, are more exquisite and abstract, like a jazz recording or a gesture drawing. The pieces made from shoes are "much more like slapstick comedy," or "a Coen Brothers movie," that he's "thrown together as a pastiche or a 3D collage."
The "Trophy Room" pieces, too, reward the eye first.
"You look at them, and it doesn't matter if you're knowledged or experienced with contemporary art. They're easy to look at, and they're funny."
Brandon Reintjes, the senior curator, thinks they play with the idea of Western art since they have cowboy boots, hats and belts mingled in materials, on a buck no less.
For his part, Little says that he came to Montana as a contemporary artist, but as a kid he admired and still responds to Charlie Russell and other Western painters.
"You could say it's contemporary Western," he said.
Little also plays country music, and is planning on playing some when he returns in October for a MAM event. He's looking forward to the visit, although he notes that many of his friends, such as Rudy Autio and his wife and fellow artist Lela Autio, have died.
"That was a wonderful and joyous time in my life. He was an amazing colleague and so supportive of me as a young faculty member, it was a dream come true. Rudy was and remains one of my ultimate heroes and role models," he said.