Three Missoula artists received awards that recognize their creative work in their respective mediums.
Musician Naomi Moon Siegel, author Melissa Stephenson and visual artist Jennifer Reifsneider all were honored with 2019 Artist Innovation Awards from the Montana Arts Council.
The award includes $5,000, and the only stipulation is that the recipients must share their work with the public here in the year ahead.
In a news release, Tatiana Gant, the council's executive director, said "the council understands the necessity for artists to take chances. The award encourages artists to invest in research and continued exploration."
Outside Missoula, the honorees were ceramic artist Robert Harrison of Helena and visual artists Nan Parsons of Basin and Jane Waggoner Deschner of Billings.
Past Missoula winners include poet Mark Gibbons, choreographers Karen Kaufmann and Joy French, author Erin Saldin, ceramic artists Shalene Valenzuela and Alison Reintjes, and visual artists Theo Ellsworth and Stephanie Frostad.  
The winners were selected by a panel of experts in performing arts, visual arts and literary arts.
Jennifer Reifsneider
Jennifer Reifsneider says her work exists "somewhere between drawing and sculpture," a form that she calls "diagrammatic sculptures."
While they appear two-dimensional hanging on a wall, they're "very much about the material" — crocheted or knitted fabric, sometimes embroidery with paper. Some can be quite large, the width of her arms outstretched, creating a human-like scale.
Reifsneider, who grew up on a working farm in Pennsylvania, moved to Missoula in 1997 and worked out of the Brunswick artist studios on Railroad Street. She has a bachelor's from the Rochester Institute of Technology, and spent time in Los Angeles, where she got an MFA from California State University in Long Beach in 2011, and moved back to Montana in 2016.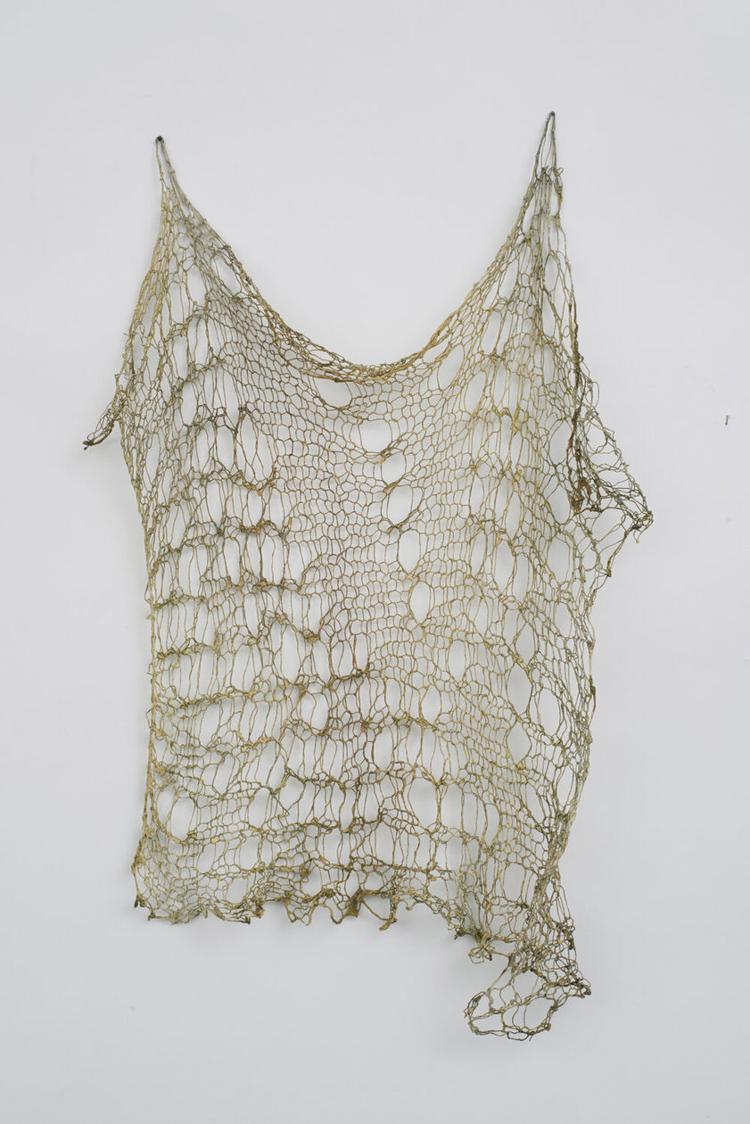 Over the course of those moves, she exhibited her work around the country, including the Center for Craft in America and the Los Angeles Municipal Art Gallery. Here in Montana, she's exhibited at the Brink, and has an upcoming solo show at the Gallery of Visual Arts in January 2021.
She'll share her work with the public through that exhibition, and an upcoming duo exhibition at the UCross Foundation in Wyoming. She'll travel there for a weeklong residency for workshops and artist talks. The grant will also help her renovate her studio, which needs work if it's to be suitable for creating art year-round.
Naomi Moon Siegel
Siegel, an Oberlin Conservatory-trained trombone player and composer, moved to Missoula in 2016 after building a career in Oakland and then Seattle.
Here in Missoula, she founded a project, Lakebottom Sound, to promote creative music of all genres in a thoughtful way. That included a concert series in nontraditional venues designed to promote listening; an improvising workshop called the FreeSessions; and the Missoula Conduction Orchestra, a collective improv group.
Last year, she released a new album, "Live at Earshot," recorded with a quintet format at the Seattle jazz festival. It was a follow-up to "Shoebox View," a solo outing with no shortage of jazz chops — it was reviewed in DownBeat — but is in many ways an instrumental version of a carefully arranged singer-songwriter album. 
Siegel has multiple projects en route that will be helped along by the grant. She's planning a studio album with that Seattle quintet, which could include a few other guest spots. She's been writing a suite for the album. 
The other project is a solo outing, supplemented by the looping and effects she uses with her duo Syrinx Effect. "I'm excited to get some Missoula musicians to make some guest appearances on that one," she said. After recording, she'll turn them over to her drummer-producer Eric Eagle, and give him "free reign" to shape them into new forms.
Siegel said there aren't many grant opportunities for musicians in Missoula or Montana, and that she's grateful that her work, which could be viewed as esoteric, was selected for financial support.
Regarding her public acknowledgement of the grant, she has two performances in February with Marina Albero, a pianist from Seattle. They have one date at the Missoula Art Museum on Feb. 29, preceded by another on Feb. 28 in Eureka through the Sunburst Foundation's performing arts series.
Melissa Stephenson
Stephenson's memoir, "Driven: A White-Knuckled Ride to Heartbreak and Back" was published in 2018 on Houghton Mifflin Harcourt. The book revisited phases of her life based on the vehicles she owned at the time, ranging from VW buses that provided freedom and escape during tumultuous periods, to a truck that formerly belonged to a deceased family member.
Stephenson studied English as an undergraduate at the University of Montana, and then earned her MFA in fiction from Texas State University. Now back in Missoula, Stephenson said that she's heartened by the fact that an innovation award went to a writer like her: a single mother of two trying to "capture other stories" of what it's like to be in the West, rather than just traditional fly-fishing tales, or as she sometimes jokes, "bear wrestling."
She's working on a collection of essays, tentatively titled "Attachment Therapy." Some have already been published in outlets like the Washington Post ("on running the Missoula Marathon as a way of running through divorce"). Some pieces are in hybrid forms that are "maybe closer to a prose poem," she said. In "Fidget Spinners in the Anthropocene," she reflects on preparations for her daughter's eighth birthday party in the midst of the devastating 2017 wildfires.
She's planning a public event of some kind, which could involve a workshop in which she shares her work and helps others with creative nonfiction projects of their own.
She said that as someone doing the "Missoula creative hustle," the award will allow her to carve out more time for her personal work. She has three different jobs — teaching poetry for the Missoula Writing Collaborative, tutoring at the University of Montana, and a freelance writing and editing business. The additional money will help make her personal writing more sustainable.