Julia Galloway's style of pottery means beautiful objects, the kind you want to take home and use every day. She's part of a long tradition, using these vessels to convey ideas about domestic life, community, shared meals, ritual and more. Her newest work marks a shift into science, politics and education.
When you enter the Radius Gallery to see the University of Montana professor's new work, it might not dawn on you immediately what you're seeing. Walls of jars and plates decorated with imagery of plants and animals. A series of circular tables, where she's arranged a "river" of plates and bowls: lines of "cloud" platters, with soothing, cheerful shapes and lightly melted blue cloud decorations. Interspersed are crimson bowls with intricate line drawings of insects. Swimming through the stream are plates with gold backgrounds and drawings of fish.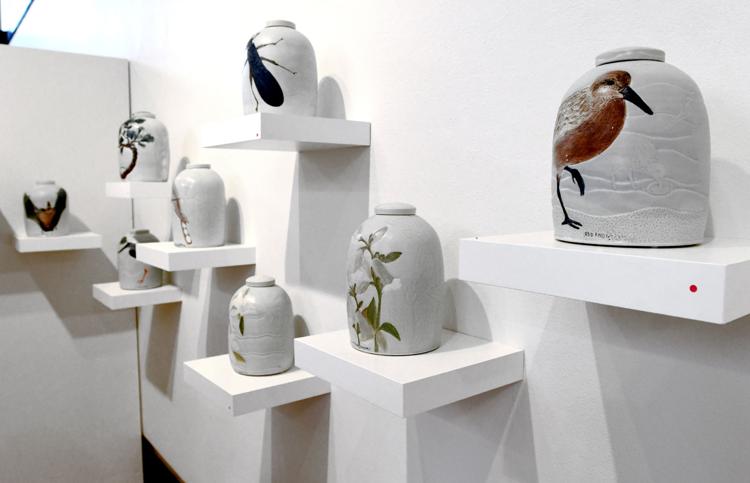 The fish are extinct. The creatures in the plates and urns are at risk. The arrangements are one manifestation of her Endangered Species Project, an approximately five-year endeavor.
Her eventual goal is to create commemorative plates and urns for the 2,000-some species that are endangered in the United States and Canada, a number that fluctuates as species are added or removed.
Once complete, she hopes to exhibit all of them at galleries and museums around the country.
They're pleasing objects that can broach a subject so enormous that it's hard to grasp.
While making them, she asks herself what will draw viewers in. "Because I really want them to think these are beautiful objects, and through being interested in the urn they become empathetic to the species."
Her paintings of the animals convey some of their temperament and what might be intriguing or attractive about any particular one. The northern long-eared bat swoops toward the viewer with its wings extended. The wolverine scans its environment with its mouth agape. Those environments are monochrome, a ghostly blue-white. The bull trout swims in a school, yet only one is painted in color.
"I wanted it to be alienated on the urn, in the same way that it's alienated in the natural world," she said.
People have reacted strongly to the "ghost" images, too, and she finds it encouraging that people are interested in one of the "most devastating" parts of the artwork.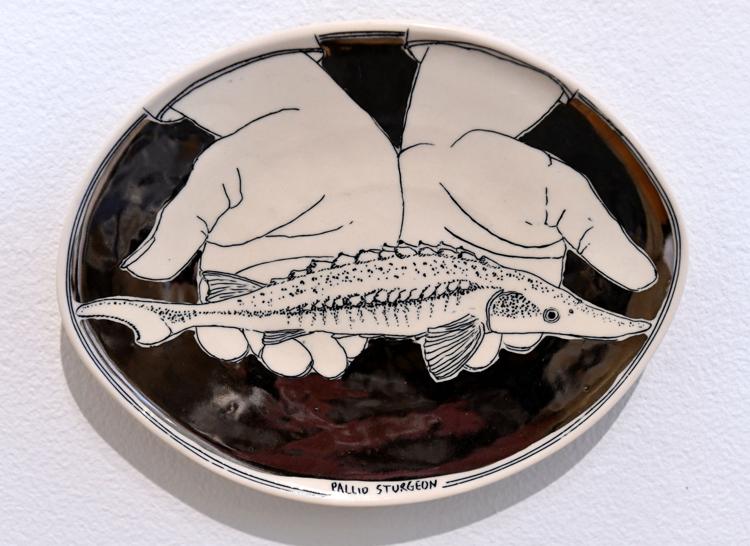 Threatened species
The trigger for the project was a moment two years ago, when she heard a news report about the wandering albatross, a species with an 11.5-foot wingspan that can travel for thousands of miles. One of the threats to the bird is commercial fishing lines.
"That just seemed amazing to me that such an incredible thing was getting killed so quickly. It was very humbling," she said.
It tapped into a desire to change tracks in her work.
"I'm concerned about the state of the world. I've been making useful pots for many years, and there's a lot of great potters out there, and seemed like it was time," she said. "I wanted to move in a different direction."
Galloway picked two forms that have cultural history going back thousands of years: commemorative plates and urns.
On the surfaces of the plates, the species are rendered in lines of blue on a reflective background, either silver or gold. While the final effect isn't intended as a perfect mirror, she wants the viewer to see their own reflection, to place them inside the work, too. The silver is platinum luster, an old ceramic technique, that signifies the species' value. Those are the endangered ones.
She reserved gold for ones like the bald eagle and the gray wolf that have been de-listed, again, to include signs of hope.
Finding the right tone has been important, since the subject can make viewers feel depressed, annoyed or hopeless. At the Radius show, they decided not to use any large wall text with the title of the project, so that viewers might examine them for a moment before they really understand the concept, she said.
Hopefulness, education and potential for action are key. The back of each plate has an essay about the species, its plight, and what efforts can be made to save it. On a conceptual level, the urns are empty of ashes, to symbolize that the species are indeed still alive.
Lisa Simon, co-owner of Radius, said some visitors are initially "surprised and intrigued to see this kind of activism from a functional potter. It's not a combination they see very often."
She sees the installation and message as an "expanded expression of what it is to live mindfully. In the same way that using handmade objects creates a more meaningful relationship between the user and maker, with these objects so carefully adorned with endangered species are consciousness-raising; they can become meditations on the individual species, Western lifestyles, the environmental crises, or just the amazing diversity and resilience of nature."
Galloway believes that arts and crafts bring people together, whether in galleries or museums or markets. "It's a place of non-judgment, where you can have a beautiful and calming experience."
Another influence is the idea that a project can make visible an "unseen" thing, such as these plants and animals. In 1987, she saw the AIDS Memorial Quilt at the National Mall in Washington, D.C., which had nearly 2,000 panels for people who had died of AIDS, a disease that was either hidden from the public or ignored for years because it primarily affected gay men.
Yet another influence was one of her favorite artists, Akio Takamori, who died in 2017 of pancreatic cancer at age 66. One of his final exhibitions, "Apology/Remorse," explored imagery of men apologizing. Galloway began to wonder, in a broad sense, about what our cultural should feel remorse for. One answer for her generation is the plight of endangered species.
Galloway is "shocked" by how much it's changed her daily life, many in the small ways that people tell us that we should. She doesn't eat fish, or very little. She doesn't buy things if they're packaged in too much plastic. She did buy reusable grocery bags. She doesn't drive her vehicle as much as she used to. She did start telling cat owners that they can save songbirds if they put a bell on their pet's collar. She conserves more water, and doesn't order clay if it contains ingredients from other countries. (It "seems crazy to bring dirt across the ocean.")
"I would say that it has infiltrated practically every aspect of my life," she said. None, however, are hardships or great sacrifices.
Large projects
This isn't Galloway's first time melding pottery and installation into a large project. "They're so delicious," she said. "You can really sink into them. They give you time to develop an idea."
For one, "Quiescent," she made 1,400 cups decorated with drawings of the birds of North America based on John James Audubon's books. The reverse side of the cup had a drawing of a habitat that matched the painting on the gallery wall, so they could "disappear." About 100 of them were set on shelves with a motion sensor. If someone picked up the cup, it would trip a motion sensor and a recording of the bird's song.
People had strong emotional responses, typically to birds they remembered from their youth. Kids ran around the gallery — which she noted is taboo — in loops setting off the sensors. Couples would split up so they could find a particular bird and buy the cup before anyone else could. Members of the Audubon Society offered critiques on, say, the length of a bird's beak.
"What I ended up thinking about that show ultimately was that energy begets energy," she said, and her own effort was matched by the audiences. She's also observed that large projects can draw people in — the scale makes an impression and the "volume also presents a dedication and an understanding."
There's a "wow factor," too. "Sadly on this project, the wow factor is a bad sign."
The scope for this project is large, perhaps five years total with the clock starting two years ago. The number of species is around 2,000, and changing all the time. Early on, she decided she needed to do them all, since they're interconnected.
"You can't say this bug is less important than this bear. You can't say that this grub is somehow not as equally important as this songbird. That's when I realized the sort of enormity of the project," she said.
She also needed to set historical and geographic parameters to make it achievable at all. She picked species that are endangered or went extinct since the end of the Industrial Revolution and stopped two years ago.
The regionalism of the project is important, too, in raising people's concerns about what's happening around them versus a faraway place. She set her southern boundary at the United States border with Mexico, and extending north into Alaska and Canada, since the country has so many overlapping species.
Galloway is quick to mention that she's not a scientist. She reached out to scientists and students at the University of Montana for help on how to research the project and convey the information accurately.
One scientist is Chad Bishop, the director of the UM Wildlife Biology Program in the College of Forestry and Conservation.
He sees "great value" in communicating scientific ideas through art and finding "new avenues that could be accomplished when you connect scientists and artists." Bishop said science communications has improved as a field, but art projects can tap into an audience that they might not reach now.
He said it's rare for an artist to reach out to him about a project like this, although other science-art projects have been born on campus. Professor Karen Kaufmann's "Fire Speaks the Land" broached issues about fire science through dance and music, for instance.
Simon said many local science teachers from the high school and college level have come through the gallery, and it's sparked discussions about particular species.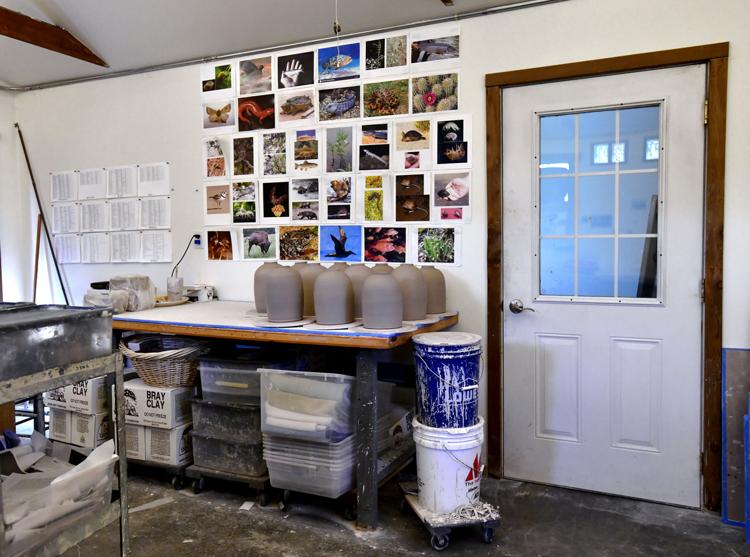 Boston roots
Galloway grew up in Boston with her mother, and during high school found refuge in the ceramics studio, and learned it was a way to connect with other people. She bought her first wheel with babysitting money and "lugged it home on the subway" herself. Her father had a hobby farm in Connecticut, and she remembers helping him clear the land, so she had sense of what it means to convert forest to pasture, that "something is gained, and something is lost." In Boston, meanwhile, the places where people gathered for joyous occasions typically involved some sort of natural space, such as a park or a festival.
Those experiences "made me think about our relationship with the natural world differently," she said.
After teaching in New York for 10 years, and wanted to return to Montana, where she'd done a residency at the Archie Bray Foundation in Helena. In 2009, she came to Missoula to teach at the University of Montana School of Art.
"It was the only job that I was interested in," she said. "I wanted to come back to Montana because I felt like so many things were possible here and I wanted to work in a state school where the mission of the school was not to turn a profit it was to educate their students."
Sabbatical, a fellowship
Galloway is on sabbatical from UM, giving her time to travel for research and make the work. Additionally, last year she was awarded a $50,000 fellowship from the United States Artists. They're selected based on prior work, and the money isn't designated for a specific project, only to create financial breathing room, she said. The fellowship website cites her busy career teaching, lecturing, exhibiting around the country and more.
Her reputation has enabled her to show parts of this project around the country as well, including New Mexico, Pennsylvania and Massachusetts.
At Harvard University, she exhibited an urn for every species in New England. It was a relatively small gallery space where she filled the walls, hoping to overwhelm visitors.
Going in, she'd expected "star" species like the grizzly bear to draw the most attention. In New England, though, people were worried about a particular grub. Perhaps they had memories of digging them up as kids, or perhaps there was "something about the little ones that are more vulnerable" that stirs viewers' sympathy. Here in western Montana, the Western glacier stonefly was popular.
There was "something about the little ones that are more vulnerable," she said.