As University of Montana graduate J.K. Simmons asks at the disastrous end of "Burn After Reading," his face scrunched up in befuddlement as he searches for meaning: "What did we learn?"
We asked artists and arts organizations in the area about the new things they tried during COVID that they'll keep doing, and what they might do differently in their work or professional life moving ahead.
Here are some of the responses: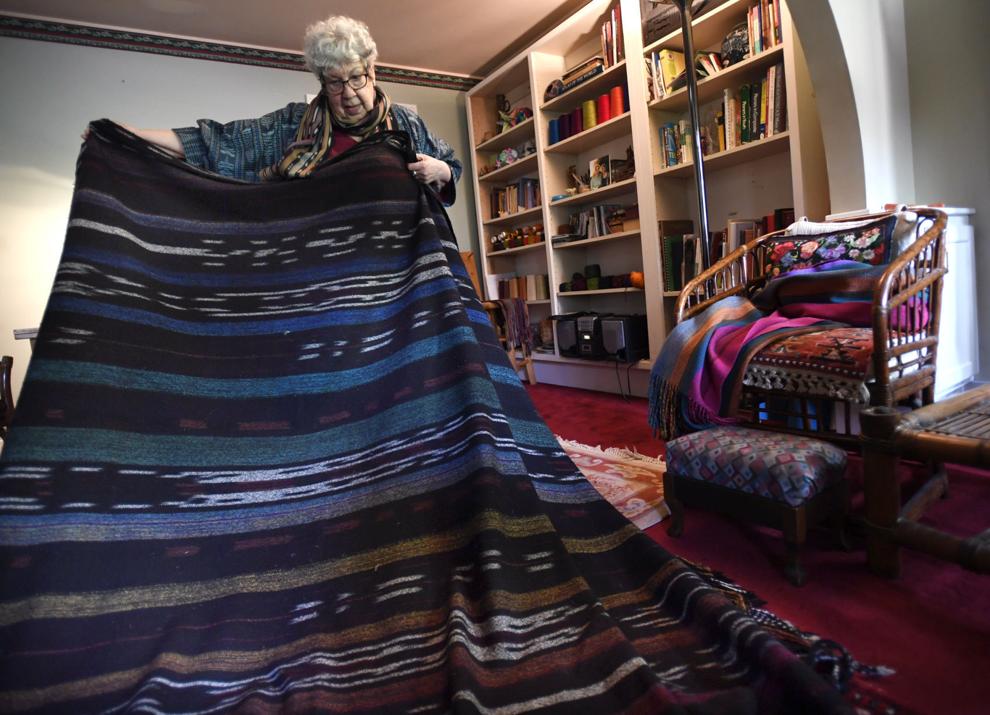 Bonnie Tarses, weaver
"I folded 7,000 cranes since the beginning of the pandemic, each 1,000 a different wish for friends and family who were suffering. Then out of the blue, I began receiving weaving orders and now have the largest waiting list I have ever had. Finally got a zoom account and teaching gigs are rolling in. It has been more creative and productive than I could have ever imagined."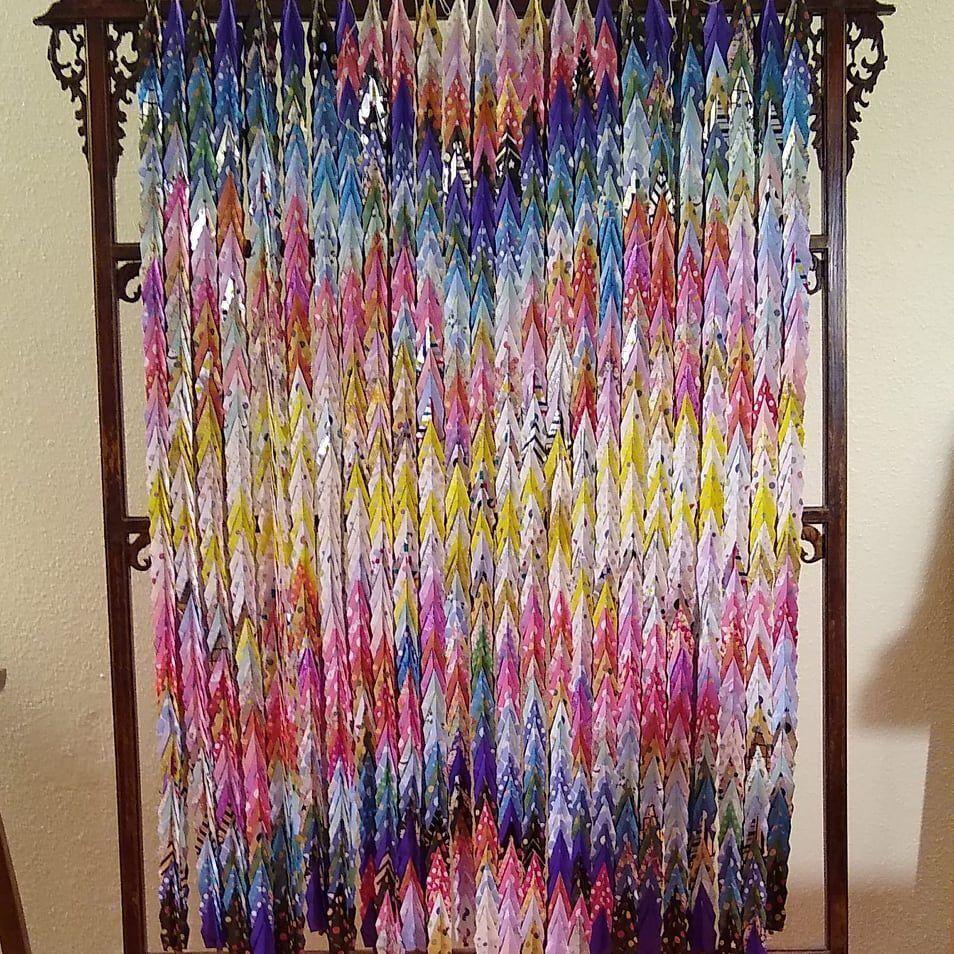 Lauren Grabelle, photographer
"At the start of the pandemic I moved onto my partner's ranch and photographed without boundaries. It became one project, then two, then one project again, and morphed repeatedly, but it didn't matter one bit. I felt very free and didn't worry about the end result."
(Editor's note: The series, "The Last Man," won third place in a LensCulture international photo competition.)
Courtney Blazon, artist
"I decided to completely overhaul my personal business model of being approximately 25-50% reliant on markets/art fairs/product sales/etc. and focus more completely on commercial client-based work and private commissions. This was something I'd been wanting to do pre-pandemic, but the pandemic forced my hand in a way. It was necessary for my personal and professional growth, and I will continue with this model in the long term."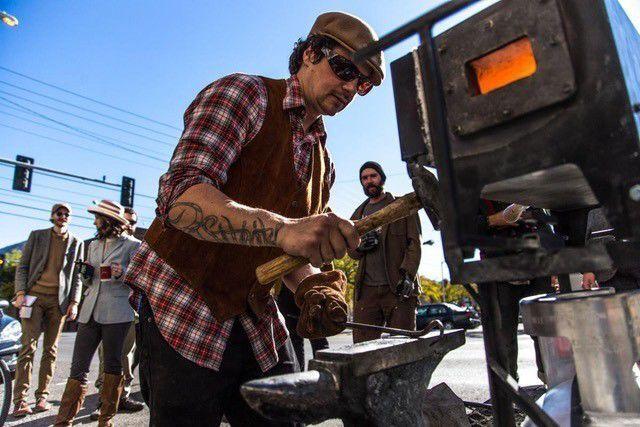 Jesse Blumenthal, sculptor and blacksmith
"Canceled contracts and an inability to hold community workshops has forced me to focus on my studio work. That has received a far better than expected response and I intend to focus more on that work with the confidence that has given me."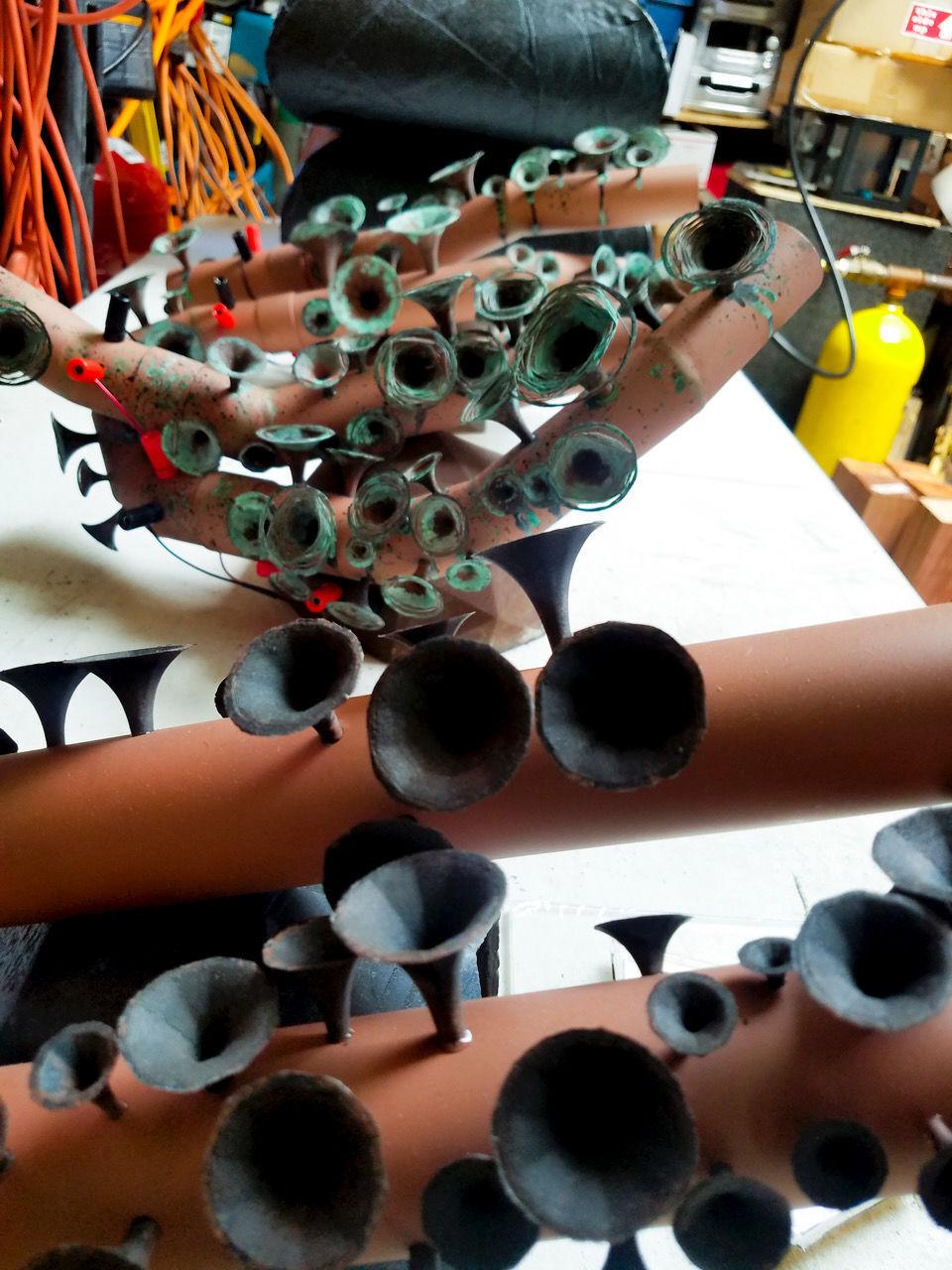 Musicians
Margi Cates, vocalist
"I started recording myself singing for an hour, once a week.
And then forced myself to listen to it.
It was hell.
But I got so much better, and I understood so much more about what I wanted to work on.
Mostly just the absence of gigs or audience reaction made me rethink my whole approach to music.
I had to strip it all down, and rediscover my joy.
But before that could happen I had to admit that I'd lost it.
I stopped creating, I stopped hustling, I just waited in the dark.
And like a miracle
Music came back to me, joy came back, and I started singing with my whole body."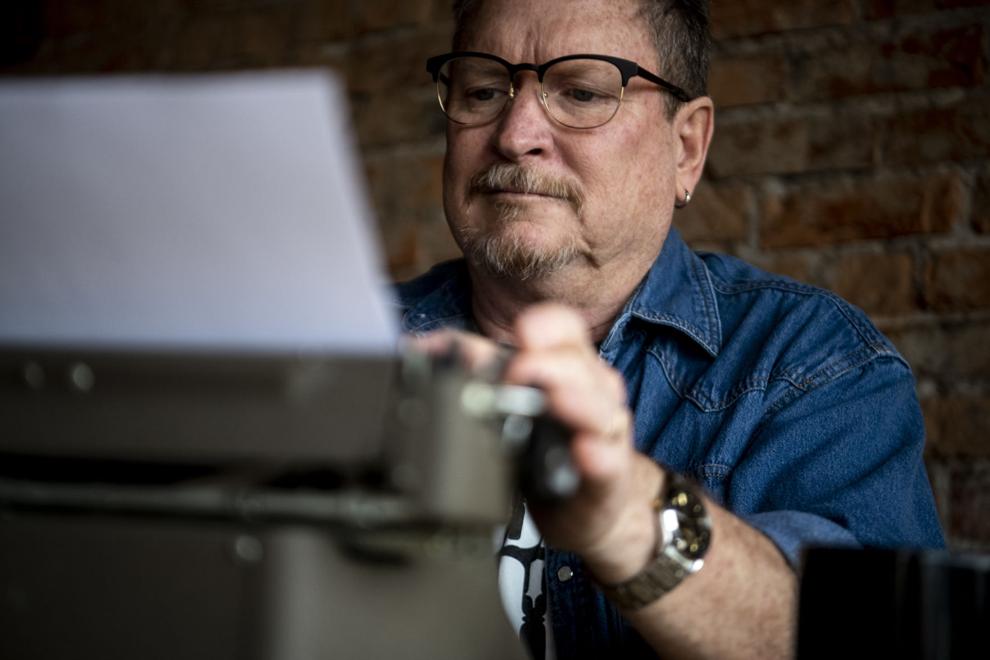 Bob Wire, singer-songwriter (and author)
"At the risk of sounding self-important, I started taking more seriously my role as an entertainer. Yeah, I definitely had my times of hunkering down and avoiding creative pursuits, but I embraced the feeling that it's my job to provide entertaining diversion, not just self-indulgence. Livestreaming leaves me cold so I found a lot of alternative platforms for music, comedy, discussion and even a bit of political activism."
Kimberlee Carlson, vocalist
"I took lots of Zoom classes — music lessons, dance, etc. It's been great connecting to all the great national and international teachers and educators out there and am going to continue this.
Since there were no music gigs, I spent more time working on the craft/creativity of my music. Did not miss that hustle. Been hustling in 'show biz' since I was 16 (going on 47 years) and the pandemic time off helped me sit back and reevaluate the relationship I have with live performance. Am going to continue learning and writing and but try not to get too bogged down with hustling for short-term goal opportunities and really enjoy just making music with my beloved musician friends."
Noelle Huser, musician
"I am new to music but I think pre-pandemic getting into the music scene I quickly fell into the pressure of having to prove myself or show off that I am creating material by constantly getting together sets for shows and not thinking much about what I was putting out there. In the pandemic I really started making music for myself and not worrying so much about who is gonna hear it and that was a game-changer, now I think I know myself better in how I work and why I am even doing this."
Organizations
International Wildlife Film Festival
Carrie Richer, filmmaker and artistic director of the International Wildlife Film Festival and Kiddomatic
On filmmaking as a craft: "A ton of filmmakers ended up handling post production and editing remotely. This was happening before but I don't think to the level that last year's impact inspired. Filmmaking teams are forgoing traditional studio visits and sessions and working remotely — passing cuts back and forth and working in the cloud. The technology has been there but now I think people have learned how to communicate in the virtual realm. This allows your post-production team to be located anywhere and collaborative remote working is very doable. It is pretty 'freeing' in terms of whom you can work with. I do think this process will stick."
On film festivals: "We will likely include a virtual component every year now. Especially for IWFF — we have ended up nurturing a pretty special international community that has been amazing to incorporate into the festival's audience each year. We also have Missoula audiences who have stated they love being able to view every festival selection, when before they could find time to come to six-seven screenings at the Roxy. This trend [definitely] expands our reach and also is satisfying for filmmakers as more eyes are on their work.
I will say that the collective virtual viewing experience felt completely authentic and impactful which I was a little surprised by."
Montana Repertory Theatre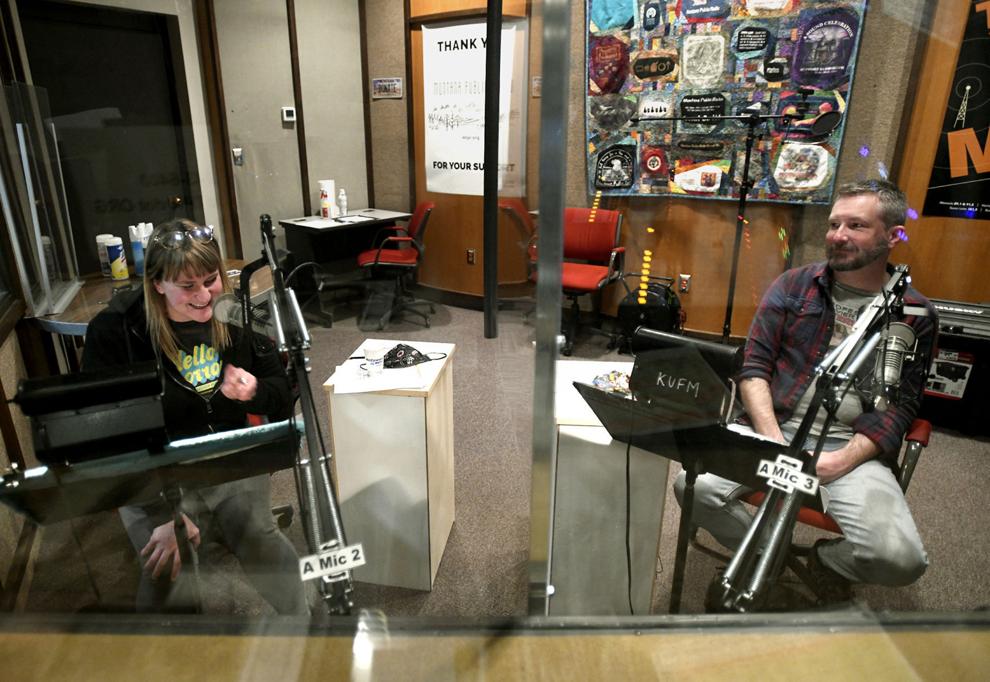 Michael Legg, artistic director
"We tried four different delivery methods during the pandemic — web-based, live outdoor, audio via your phone, and our new GoPlay! app. I think we'll continue to experiment with all four of those methods post-pandemic. GoPlay! has the most potential to grow — we're offering three or four experiences through the app next season and talking to some potential business partners about how they can use the technology to interact with patrons in new ways.
"We let go of the idea that patrons had to come to the theater to see what we do. We had folks from all over the country listen in to 'Plays on Call,' and we can send content through GoPlay! to anywhere in the world. So I think that, as we move back to traditional programming, we'll always have a way for our fans across the state and the country to tune in. We still want you to join us in the theater, but if you can't, we'll find a way for you to see our shows from wherever you are."
Missoula Art Museum
Laura Millin, executive director
1. What new things we've tried during the pandemic that we will continue into the future:
a. "Engaging our audience via digital platforms! We realized how this can be an ongoing and important way to broaden our reach, tell our story, and bring programming — both exhibitions and art education — to the farther flung reaches of our state and beyond. We are hiring a digital engagement specialist to make this a permanent part of our work going forward.
b. Embedding a racial justice, equity, access, diversity and inclusion lens in our mission, in our programs and exhibitions, in our governance and internal operations, and in our strategic thinking and planning.
2. What parts of our practice and routine from before the pandemic that we will not resume:
a. There are too many to mention! Suffice it to say there is a lot of 'out with the old and in with the new!!'"
Big Sky Documentary Film Festival
Rachel Gregg, executive director
New things:
"Going virtual in February was cool, but it wasn't a festival, so Big Sky is planning a full-scale live event for 2021. We can't wait. However, so many people reached out after the festival to say how wonderful it was to be able to participate online, like parents with tiny kids who can't get out of the house, low-mobility patrons who might only brave the winter weather for one screening but wish they could see more, low vision or hearing impaired patrons who could tap into accessibility tools with online screenings, and new fans from the other side of the world who joined virtually in 2021 but won't be able to travel in 2022.
Our audience grew last year, and we want to keep making documentary accessible. A portion of the film program will be available to stream online (we're still working on what that looks like), and we're considering a live stream of the DocShop conference as well. We're also considering offering the Big Sky Film Series online after live events take place."
Changes to old way of doing things? 
"No. If anything we'll be going bigger with community engagement opportunities, extra-curricular offerings, student programs, etc. We miss doing all the things we could do before and can't wait to make it so."