There's something inherently right about flipping through used vinyl records in a wood-paneled room, with design echoes of a '70s basement. That was the old Record Heaven.
This is the new Record Heaven, in a Quonset hut warehouse at 845 Ronan St.: bright, tall, open and airy — where a dust cloud from a particularly old record won't settle into the carpet and boxes of old LPs aren't crammed under every shelf.
"This is almost all the stuff that was in the old store," general manager Scott Storer said. "It's just more conducive."
"You can kind of cater it to what you need."
Record Heaven — the vinyl- and audio equipment-specializing offshoot of Rockin' Rudy's — was at its location on the Hip Strip for around 11 years, renting the outdated storefront. Rudy's owner Bruce Micklus purchased the Quonset hut for storage space, but quickly realized it would serve better as the home for Record Heaven, Storer said.
"Why don't we just put the record store in here?" 
Storer flipped over the jazz record playing on the store hi-fi and explained — after his 10 years working at Record Heaven — what the new store means for him, and for audiophiles in Missoula.
There's an expanded equipment section, with turntables, amplifiers and speakers, both used and new. Storer hopes to hold workshops to teach people how to care for their audio equipment, whether it's the highest-end platter or a starter from Amazon.
A lobby in the front is empty at the moment, but it will soon be filled with apparel and other non-vinyl items, to give family members who get dragged in by a record-loving sibling or parent something to look at, Storer joked.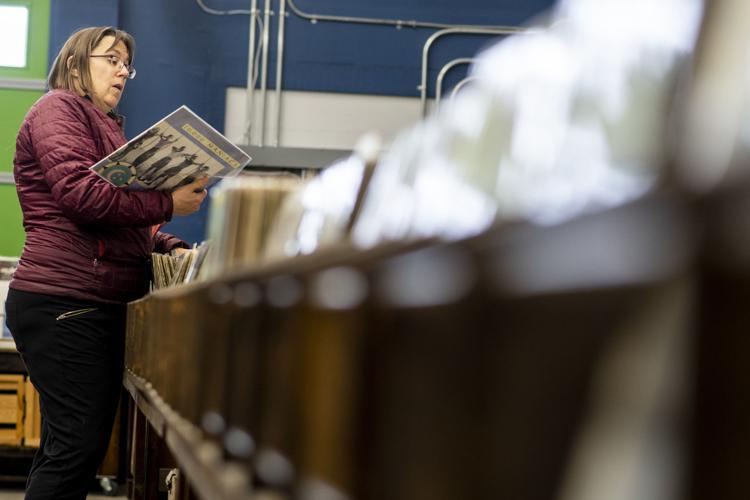 And outside of that, it's just records. Rows and rows of records.
"A couple," Storer laughed. "A couple records here or there."
In actuality, he has no idea how many they have. One of the movers estimated there were some 60,000 LPs.
Most of those are used records, but there's a good amount of new vinyl as well. A shelf in the back is dedicated to covers only — no disc — for display purposes. A huge custom-built shelf holds their cassette tape collection.
Before they moved, Storer sorted through the collection — both what was on display at the Hip Strip store and what had sat in storage for years. In both collections, he found dozens of records that likely hadn't been touched in decades.
"We slimmed down our classical a bit," Storer said, along with some easy listening, like Liberace. "I tried to get them to people that would like them."
Many duplicates were thrown out or given away. Other records — the ones that sat untouched on the shelf for years, were tossed to be replaced with records that hadn't yet seen a store shelf.
Upon moving, Storer and a handful of movers set up the new racks and filled them with records neatly sorted and alphabetized.
"It's nice starting from a clean slate," he said from behind the checkout counter Monday. But "it only takes a second before it's out of alphabetical order."
Kristy Sherman flipped through the new additions section, looking for — what was it? Oh yes — Nina Simone, or maybe some Townes Van Zandt. But much like thrifting, the gem is that record you didn't know you were looking for.
"I mean, this is good," Sherman said, pulling out a copy of Steely Dan's "Countdown to Ecstasy."
Sherman, who was in town from Fairbanks, Alaska visiting her daughter, stopped by the store due to the weather, which had kept them from a planned road trip. She had been by the old location several times as well, on previous visits.
"This is much nicer. It's not claustrophobic," she said. "It's easier to look here."
Even though they're out of the "hub of activity" that is Missoula's Hip Strip, Storer said it seems that customers are making the drive out.
"People who are looking for records are willing to go where records are," he said. "I think it's the type of shop that will get customers finding us."
The record business is booming, according to both anecdotal and hard evidence. In 2019, vinyl sales are expected to reach $500 million, according to an Oct. 18 Economist article, and should exceed CD sales for the first time since 1986.
Storer sees this in many ways: through the popularity of the annual Record Store Day, which features special releases from classic rockers and new bands alike, and through the unlikely comebacks of classic albums.
Take "Rumours," the mega-hit 1977 album by Fleetwood Mac. Ten years ago, Storer estimated they had 100 copies of the album, and a mint condition "Rumours" would sell for maybe $2.99.
"The supply and demand was out of whack," he said. "Now you get one in, and the price of them has skyrocketed. You get one in, and they're gone that afternoon."
Another record, Bobby Gentry's 1968 "The Delta Sweete,"  has gone from forgotten to sought-after following a cover version featuring Norah Jones, Margo Price and Phoebe Bridgers was released in early 2019.
"You get surprised when things come back around," Storer said. "You hedge your bets; that Liberace's not coming back again."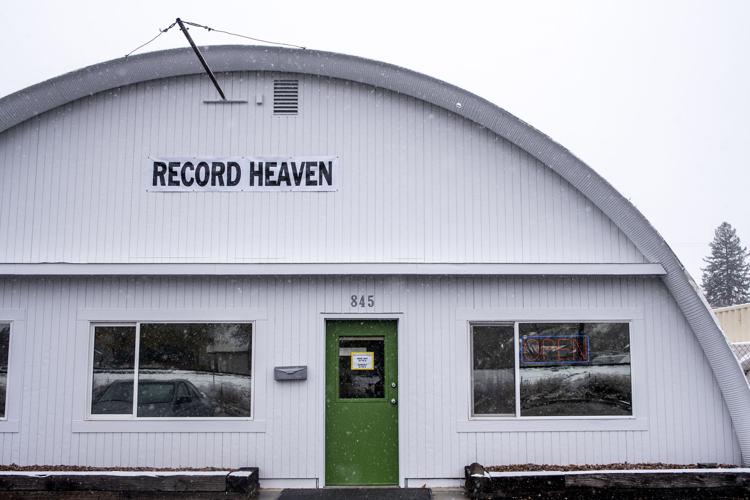 Storer sees the new Record Heaven as an early adopter of a change he sees coming as rents hike up in downtown and on the Hip Strip.
"I think Missoula's the kind of place where these kind of neighborhood stores could come back in," Storer said, adding that they've already had neighbors walk in to check out the shop and say how excited they were that something opened near them.
"Even though it's off the beaten path … it's a cool opportunity."
Once spring rolls around, Storer hoped to open up the Quonset hut's garage door and hold a grand opening, with live music, food trucks and record shelves indoors and outdoors. Events like that, plus their planned workshops, are part of a plan to make Record Heaven more than a stop for collectors.
"It doesn't matter whether you have a record player or not, you can come to an event and enjoy the space," Storer said. "We don't want to just be a record store, we want to be a hub in the neighborhood."