The Zootown Arts Community Center isn't slowing down one bit in its move to a brand-new location on Main Street.
With an unfinished second floor, and last-minute painting, sanding and construction work continuing as of Wednesday afternoon, the arts center is racing toward the finish line of a Friday night grand opening. Which will be followed by the annual Rocktober concert and costume party on Saturday. Then, the Macabaret theater and music performance next week. And so on.
"We're literally working all day and all night to get it ready," Executive Director Kia Liszak said Wednesday during a tour of the building, which replaces the ZACC's leased space on North First Street West.
"You know how much stuff we did over there — imagine how much we can do here. The sky's the limit."
The new ZACC is double the size of the old, 17,000 square feet versus around 8,000. And, through a donations campaign that's raised more than $3 million, the ZACC owns its own building now, which allows them to renovate and build as needed.
The old building had classrooms that also served as art galleries and concert spaces, with little storage and even fewer amenities like elevators or ideal studio spaces.
"In the old building, a lot of our artist studios had carpet," Liszak said, pointing out their new studios with high ceilings and concrete floors. "We're actually designing it for artists."
The ZACC bought the Studebaker Building on 216 W. Main St., originally constructed as a garage in 1921. It previously housed the offices of Advanced Technology Group.
The age of the building has benefits, Liszak pointed out, such as the concrete floors that cover the second story, allowing the ZACC to put fine arts and printmaking studios on the second floor.
They did have to redo the floor of the conference room, since half of it was covered in plywood, where the ramp to the second-story parking garage used to be.
Despite the building's size, Liszak said she's had more than a few people remark that they hadn't noticed it before on walks down West Main, due to its unassuming entrance. The ZACC will try and change that with welcoming spaces in their lobby.
"Even though it's this historic building, I almost feel it's been erected overnight," Liszak said.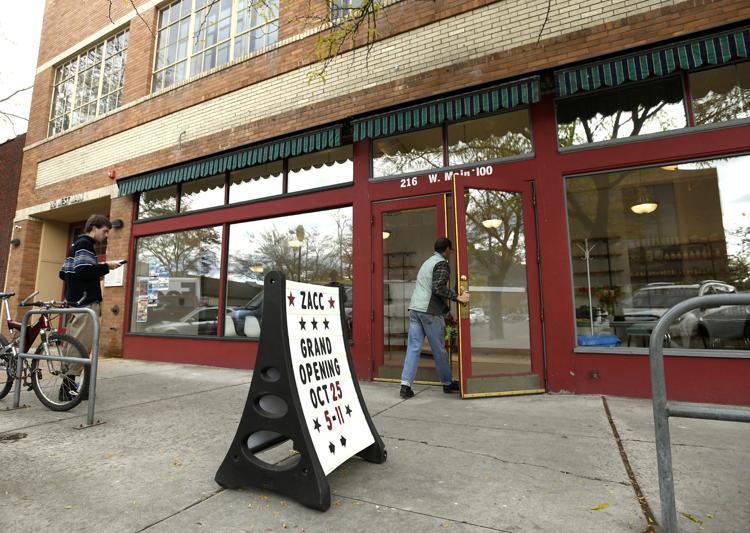 The new space includes (deep breath), from basement to top floor: a music school, with five soundproof practice rooms and a community recording studio; a paint-your-own pottery space and 750-square-foot gallery; a free art supply closet, an arts lounge, a kid-friendly play space; a concert and events room with movable stage and sound booth; a greenroom with stairs to a second-floor kitchen and break room; 11 individual artist studios and a shared studio space; a youth education room, a print shop and a conference room.
That probably covers it.
"Every space in the new space represents a bigger version of what we've been building for the last 10 years on the Northside," Liszak said. "It's been a very, very big process."
Local artists Parker Beckley and Jack Metcalf have been contracted for murals and building the kids' interactive play space, respectively, and Liszak said other locals are being tapped for future projects.
The concert and event space presents perhaps the biggest opportunity to connect the ZACC with the downtown scene. The room can hold 175 people in a seated configuration, or around 300 standing. The ZACC has applied for a nonprofit beer and wine license as well, addressing a common nitpick about the Northside venue.
"It's still an all-ages space," Liszak explained. "It's a family-oriented space. Music shows will be like 8-11 (p.m.), generally speaking."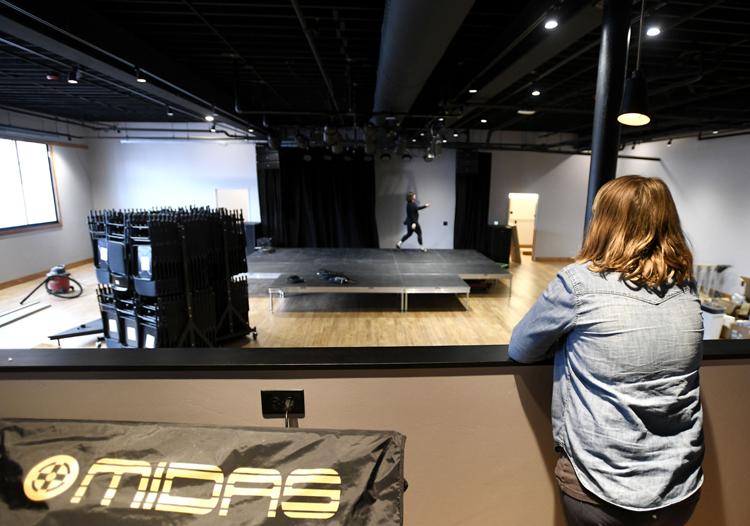 The first floor will be open by Friday, with office spaces opening by the first week of November. The entire building should be ready for use by the end of 2019.
The move and renovations have so far been financed entirely by donations, Liszak said. They've raised $3.25 million of their $3.5 million goal, with fundraising open until the end of the year.
The ZACC offered naming rights as a part of their fundraising, leading to spaces like the Blackfoot Communications Art Lounge, the Gallagher Youth Interactive Play Space and the First Security Bank Totally Free Art Supply Closet. Jeff Ament, the Pearl Jam bassist who hails from Big Sandy, donated enough to secure the naming rights of the music school. Liszak said Ament is still bandying about what to call it (it likely won't simply be the Jeff Ament Music School).
Wednesday, members of the Montana Community Foundation were getting a tour, including a peek at the newly-minted Laura Grace Barrett Printshop, named after the Montana artist. Their $250,000 donation from Barrett's endowment fund will include money for a printmaking residency program as well.
The youth education room will be named after Liszak's mother, Kathy Owens, a longtime teacher at Sussex School who died of cancer in 2018.
The grand opening celebration will feature the debut of the ZACC's annual Missoula Monster Project, which pairs members of youth art classes with adult artists, to create pairs of monsters in all mediums.
Gallery Manager Patricia Thornton remarked she's had to turn attendees away at previous Monster Project openings, because their old gallery was at capacity.
"For the first time, we were able to fit all three classes in one gallery," she said. "It's an incredible privilege, really, to have this much space."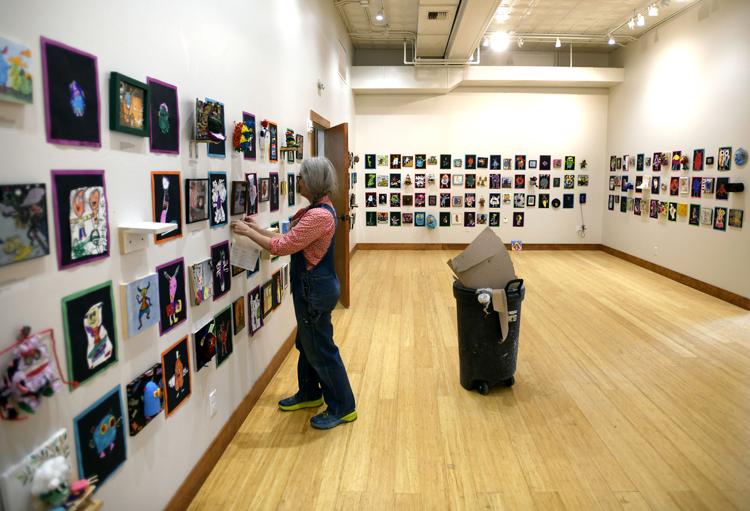 Thornton said they have the ability to divide up their main gallery with false walls, so multiple artists can put up smaller shows in their own spaces. She also planned to show music-themed art in the concert space.
"It's so big right now, being in here and working in here is a joy," Thornton said. "The old gallery was cool as well. It had its charm."
The time for charm is over, however, with the way the nonprofit arts center — which offers classes, summer camps, art studios and concerts — was bursting at the seams on the Northside.
"We want the whole space to be a representation of the talent we have in our community," Liszak said. "We are just hyper community builders."