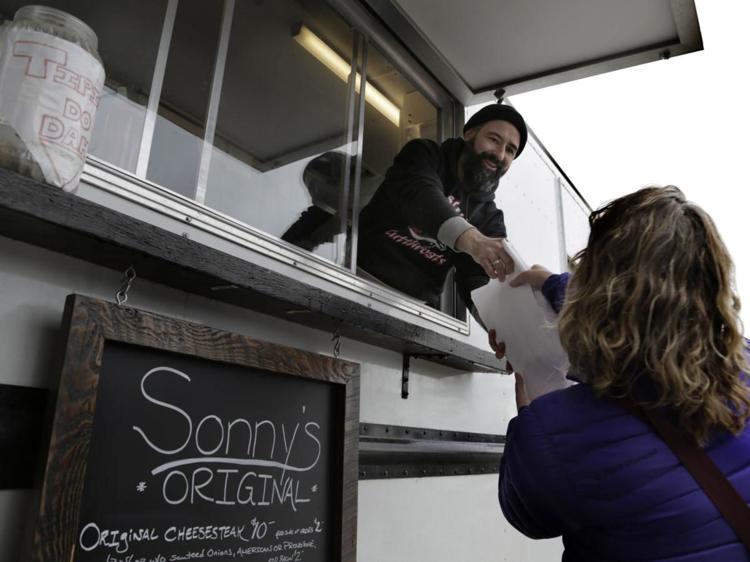 Missoula's got a thriving food truck scene. There's an impressive range of cuisine: Asian, Mexican, Indian, BBQ, burgers, sausages, pizza, sweets, sandwiches, and more. Many of these mobile eateries serve high-quality, organic, locally-sourced food. A few of them come only in vehicular form; others have brick-and-mortar counterparts. Their schedules vary widely and change frequently, so we've included social media links to help you locate them, as well as a list of common food truck gathering places. Happy eating!
Beastro 
The vehicular version of Burns Street Bistro serves up all manner of fare. In this case, chicken wings. Facebook 
Big Dipper Ice Cream
Keep your eye out for the big yellow truck bearing Missoula's favorite ice cream. Splurge on a double scoop combo like this one: yellow cake and huckleberry. Facebook
Big Thai Country 
Big Thai Country serves authentic eats from Thailand, like this plate full o' Pad Thai. Facebook
Bitterroot Bison
Eat a hearty Montana meal of bison burgers and Tatanka tacos. Bitterroot Bison Co. raises their herd humanely, giving the animals room to roam, grass to eat and zero growth hormones. Facebook
The Chameleon
This food truck changes dishes as easily as the chameleon changes colors. Anything goes, from tacos to cajun to pasta primavera (below). Facebook
Clark Fork Charcuterie
How about locally made bratwurst, chorizo, & Italian sausages hot off the grill? All of Clark Fork Charcuterie's meats come from humanely-raised local hogs. Facebook
Clove Cart Pizza
What's better than wood-fired pizza? Wood-fired pizza that comes out of a mobile brick oven shaped like a garlic clove. Clove Cart's sausage and date pizza is pictured below. Facebook
Cruz Tacos
Tacos, fresh fried corn chips, & house-made salsas will satisfy your desire for Mexican munchies. Loaded nachos with chicken shown below. Facebook
Dobi's Teriyaki
Nobody outflanks Dobi's regular and spicy teriyaki. Facebook
Iron Cakes 
Pizza waffles, PB&J waffles, s'more waffles, banana bread waffles and more. All gluten-free! Facebook
Missoula Waffles
For those lucky enough to enjoy gluten-FILLED waffles... Facebook
Montana Q
How'd you like to dig into this bad boy? The Montana Gold Miner is half pulled pork and half beef brisket. Montana Q hails from Frenchtown, but they'll be hauling their smoked meats and curly fries to Zootown. Facebook 
Mountain Berry Bowls
Husband and wife team Jared and Lindley Lynch run Mountain Berry Bowls food trucks out of Missoula, Whitefish and Kalispell. Their acai berry-based smoothies are topped with granola and your choice of fresh fruit. Facebook
Sonny's Original Cheesesteaks
You don't have to be in Philly to enjoy a delicious cheesesteak. 
Suppertime
Run by the manager of Great Burn Brewing, Suppertime serves specialty tacos - Korean pork and Tinga chicken - that go great with beer. Facebook
Take It or Leave It
St. Ignatius' Lower Crossing Farm shares vittles made from their pasture-raised animals and local produce (like loaded fries!).
Tia's Tamales
Tia's Tamales food truck was so successful it led to the opening of a permanent restaurant, Tia's Big Sky. Lucky for Missoula, they continue to sell their locally sourced, organic, authentic Mexican fare from their mobile unit. Facebook
Two Crows Tacos
Fresh out of Arlee, Two Crows Tacos distinguishes itself by offereing five different salsas, including "Volcanica."
Wally + Buck
Sink your teeth into a juicy 1/4 pound burger. Wally + Buck's sources their beef from from the pasture-raised cows of Missoula's Oxbow Cattle Company. Facebook
Even more food trucks:
Covered Wagon Hot Dogs: 100% grass-fed beef hot dogs.  Facebook
Crepe Cuisine: French crepes with a Montana style. Facebook
El Cazador: Authentic Mexican. Mobile version of the popular downtown restaurant. Facebook
Great Ape Crepes: Crepes. Food truck based out of Helena. Facebook  
Gumbo Bus: Gumbo & Po-Boys.  Facebook
Ina's Indian Tacos: Fresh homemade bread & local ingredients. Facebook
Just Barbeque: BBQ. Facebook
Lil' Orbits Donuts: Mini donuts. Facebook
Masala: Indian cuisine. Like Tia's, their successful cart led to a brick & mortar restaurant. Facebook
Noodle Wagon: Stir-fried soba noodles & Teriyaki chicken. Facebook
Pagoda: Chinese & Thai food. A mobile version of the eatery on North Orange Street. Facebook
Polka Dot Patties: American food. Facebook
Puffy's PoBoys and More: Lousiana-style PoBoys. Facebook
River City Eats: Sliders, breakfast sandwiches and more. Facebook
Sa Wad Dee: Authentic Thai. A mobile version of their downtown restaurant. Facebook
Taco Sano: Burritos. A mobile version of the fast-casual eatery on the Hip Strip. Facebook 
Two Chicks Scratch: Everything's made from scratch, from burritos and cinnamon rolls. They travel up from Stevensville. Facebook
Vietnam Noodle: Vietnamese cuisine. A mobile version of the restaurant on Stephens.
Whipped Up: BBQ. Based in Superior, they make frequent stops in Missoula. Facebook
The Wild Weenie: Hot dogs & polish sausages. Facebook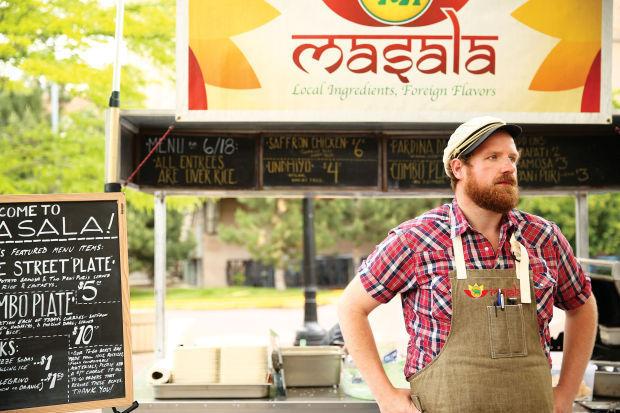 Where to find food trucks:
Missoula's food trucks make regular appearances at Western Cider, Imagine Nation Brewing, KettleHouse, Big Sky Brewing, Draught Works, Great Burn Brewing and nearly any event at Caras Park or the Missoula Fairgrounds. You'll want to check social media to see who's where when. Want a sure thing? You'll always hit the food truck jackpot during these occasions: 
Clark Fork Market: Saturdays, May 5-October 27, 2018, 8am-1pm,* on the northeast side of the Higgins Street Bridge  *9am-1pm in October
Missoula Farmers Market: Saturdays, May 5-October 27, 2018, 8am-12:30pm and Tuesdays, June 19-September 25, 2018, 5:30pm-7pm, at the northeast end of Higgins Ave.  
Missoula People's Market: Saturdays, May 5-September 29, 2018, 9am-1pm, at Higgins Ave. & Pine St.
Out to Lunch:Wednesdays, June 6-August 29, 2018, 11:30am-2pm at Caras Park
Downtown ToNight: Thursdays, June 7-August 30, 2018, 5:30pm-8:30pm at Caras Park
Ronald McDonald House Parking Lot: Fridays, July 13-August 17, 2018, 11:30am-2pm at 3003 Fort Missoula Rd.