Short films have all the power and punch of a long-form movie in a quarter of the run time. You can watch them throughout the festival (Feb. 20-28) as part of a larger block of movies.
'Irakli's Lantern'
Director: Ben Page
2020, UK, Republic of Georgia, 17 min.
While the Mountain West has absorbed a surge in tourism and new residents, this short film gives a different perspective from the Caucasus Mountains in Georgia, where historic villages are slowly being depopulated as younger generations move away to pursue opportunities elsewhere, and no newcomers take their place.
One holdout is Irakli Khvedaguridze, age 78. Each September, the few families remaining in his village of Bochorna, Tusheti, depart for the winter. The weather at this elevation — above 7,500 feet, the highest settled point in Europe — makes it easy to see why, when a storm rolls through and the viewer is cooped up along with Irakli, who sleeps very close to a stove.
After the bluster passes, it's easy to understand his passion for the place based only on the views. Director Ben Page accents scenic panoramas with slowly paced drone shots that convey the alluring stillness of winter and the vacancy of altitudes.
He also provides Irakli unhurried time to express the meaning of this specific place to him. The gradual decline in this traditional way of life saddens him. The idea of his children coming up during winter is a "fairytale." He says the most important thing, after having your family, is what you'll leave behind. He's put his "brick" in Tusheti. Those mountains aren't a vacation to him — "they're a way of life" — that he's preserving as long as he's able.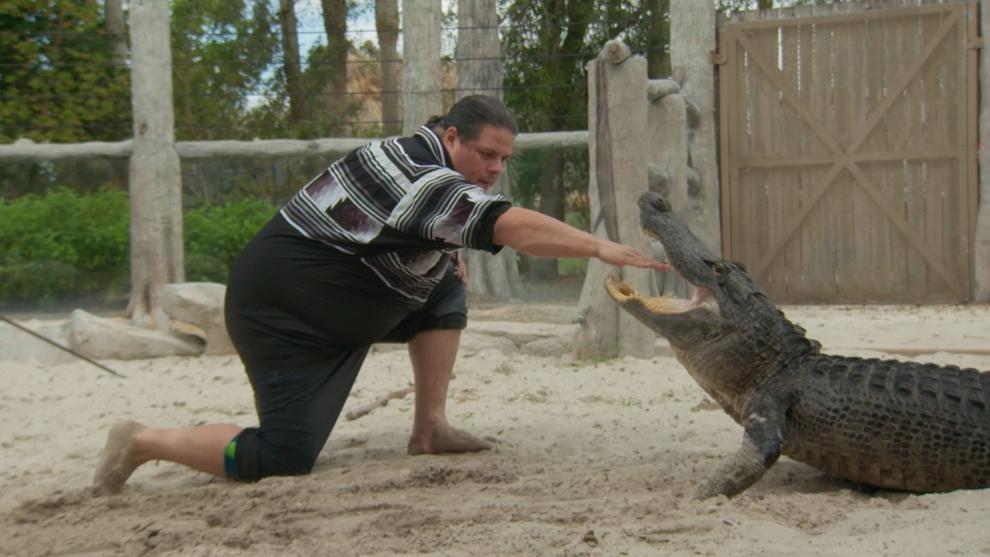 'Halpate'
Directors: Adam Khalil, Adam Piron
2020, USA, 14 min.
Seminole alligator wrestlers do the seemingly impossible in "Halpate." They skillfully get on an alligator's back and hold its head upright. Then they open its jaws and hold the upper one in place with their own chin and extend their arms outward like magicians, but here there's no trick, and the danger isn't an illusion. Some are practiced enough to put their head between its V-shaped jaws.
This 14-minute doc balances that sort of incredible footage with interviews of tribal members, who describe it more like a collaborative art with the gator than an adrenaline-junky stunt. (Although one says it definitely makes your adrenaline spike). It requires focus so deep that one says the sound he hears most during a performance is his own heartbeat. The score of electroacoustic ambient music from MAQE and Navajo experimental composer-sound artist Raven Chacon adds to the intensity level in these scenes.
That footage is balanced with history of the art — the Seminole Tribe is "unconquered," having never signed a treaty, but was pushed to the Everglades. A white man, Henry Coppinger, built mock villages where tribal members would live and "demonstrate" crafts as a tourist attraction, and catching alligators moved from substance to income.
Directors Khalil and Piron include a montage of historical photographs set to that music that destabilizes your sense of expectation and resolution as though it were an art installation.
The end-point isn't about the past, but the present. There's an entire freestyle wrestling competition, although some wrestlers say they don't do it as much as they used to or have retired. And they own the sites that draw tourists now, including a casino, not Coppinger.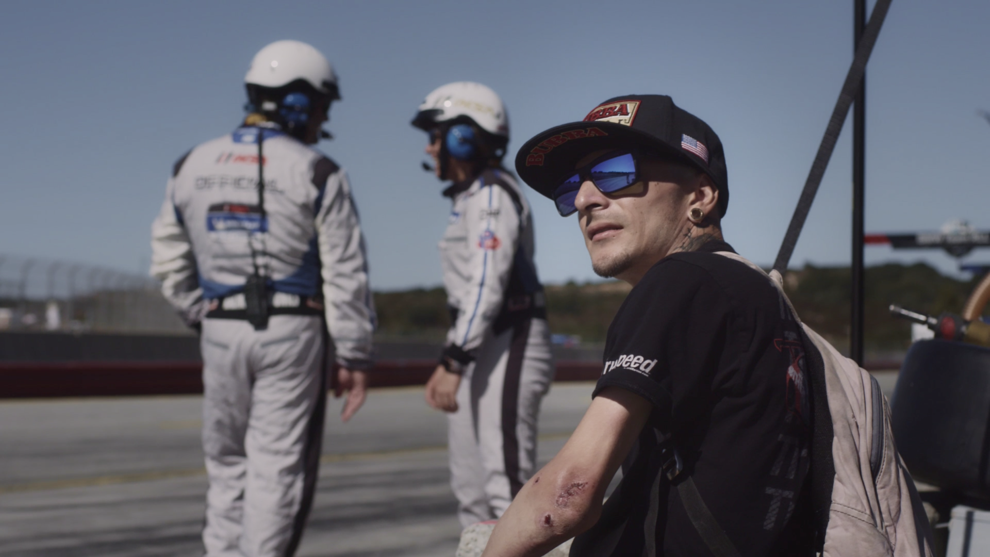 'Driven'
Director: Cody Wilson
2020, USA, 17 min.
Mario Bonfante Jr. is a racing prodigy — first in one way, then in another.
He began racing motorcycles when he was a teenager, competitively focused on his sport above all else, even getting kicked out of school. He describes the sensation of speed, or fear of running out of time, or not reaching his full potential, in near-religious terms.
His career seemed to have ended after an accident doing a flip on a BMX trail. When he was in the air, he said he felt something like complete bliss. When he was on the ground, he remembers a bright light and thinking he had more to do, and "snapping back into his own body." 
It seemed that his career as a racer was over. Yet after he tries out a lower-speed two-person car, with his dad riding shotgun and shifting gears, his competitive nature and determination re-surface. He learns design software to build a new steering wheel that allows him a total control without foot pedals. He works out to rebuild his strength. He orders parts online to build a race-car from scratch. There's welding involved.
The look and sound of the movie seem calibrated for its subject of racing — keyed-up visuals and score (emotional strings, then techno) and a gradually accelerating arc. Bonfante was stopped, temporarily, then he takes off again.