The 17th annual Big Sky Documentary Film Festival rolls into its final weekend with more great choices than hours in the day. In this week's issue, we take a look at films, both features and shorter selections, from Montana, the broader United States, Africa, Tibet and more. For complete listings of the movies playing this week or to buy tickets, head to bigskyfilmfest.org.
Movies are screening at four venues: The Wilma, The Elks Lodge, the Roxy Theater and the new Zootown Arts Community Center on West Main Street.
Retrospective
Now's a very good time to re-examine the career of Julia Reichert and Steve Bognar, the festival's retrospective filmmakers, in the closing weekend. The two just won the Oscar for Best Documentary for their film, "American Factory." That's among the line-up of shorts and features, which date back to Reichert's pioneering work as a female filmmaker in the early 1970s. See this week's interview to learn more about them and their work.
Retrospective: Oscar-winning duo on making films that matter
Competition winners (and a second chance to see them)
On Friday night, you'll find out which movies won in the four competitions: the feature (40 minutes or longer), mini-doc (15 minutes and under), and shorts (15 to 40 minutes), plus the Big Sky Award, for films that honor the "character, history, tradition and imagination of the American West." 
The winners, selected by a jury of industry professionals and filmmakers, will screen again on Sunday at 5 p.m. at the Zootown Art Community Center and at 8:30 p.m. at the Wilma. (Watch bigskyfilmfest.org to find out more.)
Organizers are also planning a "films you missed" screening on Sunday for movies that sold-out or gained a lot of buzz, at 4 p.m. Sunday at the Elks. Again, head to bigskyfilmfest.org for more.
Features: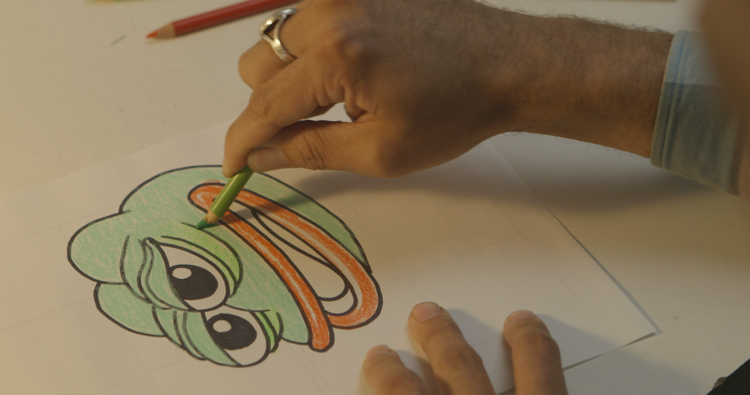 "Feels Good Man"
Arthur Jones, 2020, USA, UK, Denmark, Canada, Hong Kong, 93 min. Northwest premiere
Saturday, Feb. 22, 2:45 p.m., ZACC
Tickets at bigskyfilmfest.org
Pepe the Frog, the squinting cartoon amphibian, has been portrayed as Obama, Trump, a stormtrooper, or pretty much anything you can think of, doing anything you can think of.
This is the worst nightmare, and a long one, for Matt Furie. The gentle and soft-spoken artist from Florida doesn't care much for politics, and in fact wants to escape from that part of life through his work, has been drawing frogs since he was a kid. His alternative comic, "Boy's Club," originated as a look back at post-college dude life in all of its aimlessness (beer, pizza, drugs, friends). One of the characters was a frog, Pepe, who was like the little brother in this group of friends. 
How Pepe started there and ended up, thanks to the strange way life works online, as a hate symbol according to the Anti-Defamation League, is the subject of Arthur Jones' funny, weird and troubling movie. 
Along the way, he interviews Furie and his friends, family and fellow creators; academics who study memes and hate groups and dedicated 4Channers to explain a cultural phenomenon that was unthinkable a few decades ago. The spread of a meme online is impossible to film, so Jones creatively illustrates the journey by supplementing the on-camera interviews with animations of Furie's work.
If you're interested in some deep meme anthropology, once upon a time Furie drew a panel in which Pepe is caught peeing with his cartoon pants all the way down around his cartoon ankles. Upon questioning why he is doing this, he simply replies, "feels good man," a phrase that would become ubiquitous.
The chain of events might never truly be untangled, but it happened something like this: Furie posted the strip on MySpace. Around this time, the phrase "feels good man" had become popular. At some point, people began posting the cropped image of Pepe with the "feels good man" dialogue bubble. Pepe starts to mutate, as memes do. 
If you don't waste your life online, this portion of the movie will be new, fascinating and disturbing. Jones treats viewers to an introductory course on the message boards of 4Chan, where the site design fostered a nihilistic sense of humor that encouraged the most shocking posts possible to gain attention. He interviews several 4Chan regulars, including one fellow who self-describes as "NEET," an acronym for "not in education, employment or training." He is the literal guy (white, male, sad, angry) living in his mom's basement, writing negative posts online.
Pepe becomes an all-purpose avatar for new drawings — it helps that he's easy to re-create. During the 2016 election, 4channers begin backing Trump as a form of trolling. 
From there, Pepe truly escapes from his creator's control, or most people's awareness that a quiet artist named Matt Furie drew him in the first place.
Pepe no longer belongs to anyone, a fate to which Furie seems to reluctantly accept. He visits academics studying online symbols who give him astoundingly high numbers of Pepe images they've found on the internet. He makes various honest attempts to rein in control (TedTalk on positivity, killing Pepe) over an inherently decentralized and uncontrollable phenomenon. 
In the back half of the movie, he enlists some pro-bono legal help to enforce his copyright where he can. (Alex Jones makes a cameo of a deposition video.)
The director decides to end the film on whatever high note he can find. Over in Hong Kong, protesters who likely have no idea of what he means in the U.S. have adopted him as a symbol for their causes.
Some say he's ugly, some say he's cute. He can mean whatever they want.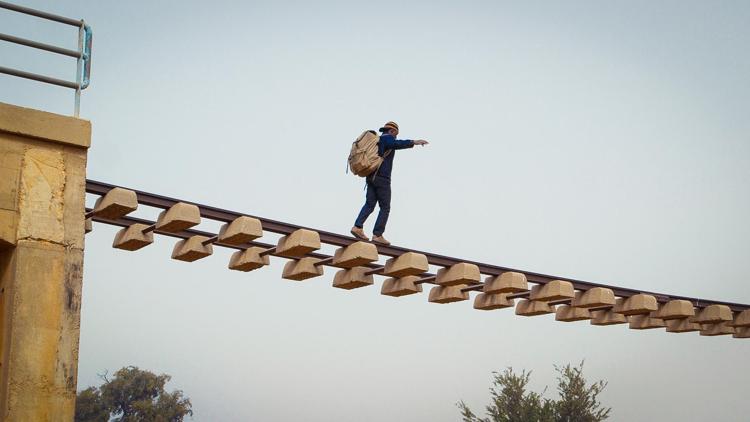 "Sankara Is Not Dead"
Lucie Viver, 2019, Burkina Faso, France, 109 min. Northwest premiere.
Saturday, Feb. 22, at 11:30 a.m. at the ZACC
A journey by rail or foot into uncertain territory requires a patient and inquisitive spirit. The beautiful imagery and depth of "Sankara is Not Dead" reward the willing, as director Lucie Viver follows a poet, Bikontine, as he travels across his home country of Burkino Faso, trying to decide whether he wants to stay or leave.
To those who don't know African history, the film gradually expands on the importance of Thomas Sankara, a revolutionary who served as president from 1983 until his assassination in 1987, and the state of his country in the fall-out of a fizzled uprising in 2014. Stylistically it's a beautiful movie, which helps, since novices to the recent political events will need to be patient or do some Googling in advance — Sankara's significance emerges gradually throughout in video and audio clips of old speeches.
The film is divided into chapters as Bikontine makes his way across the country. On his route, he meets a series of everyday people: a taxi driver, gold miners, a student, workers harvesting sugar cane and cotton, a bookseller, a doctor, an older activist, and more.
Viver's visuals are as poetic as Bikontine's words, with rich saturated color and careful framing of shots. We see him playing foosball with a student at night, talking about the future and poetry. He hangs out with field workers and awakens the night morning in a literal pile of cotton. He crosses a train bridge with no protective rails, balancing himself and a large pack.
The score, when there is one, is electric guitar of the most gestural variety. In scenes of political discord at the beginning and end, it consists of chords, lightly distorted and then muted, or the sound of the fret hand brush along the strings, implications of music beginning but faltering or retreating. As Bikontine advances, the guitar build into larger phrases. 
It slowly unfolds, and like the movie itself, and demands and rewards patience.
Shorts block of movies about relationships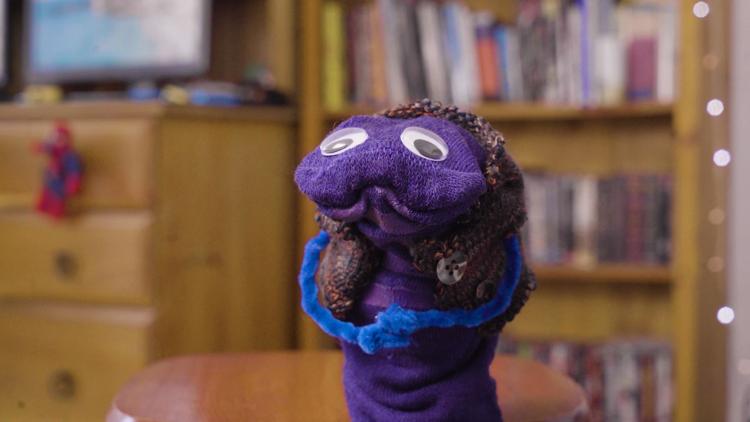 These two films are playing as part of a 90-minute shorts block on Friday, Feb. 21, at 1 p.m. at the Wilma.
Tickets are at bigskyfilmfest.org.
"Broken: A Sockumentary"
Hannah Dougherty, 2019, Australia, 7 min.
Director Hannah Dougherty recorded interviews with subjects about their experiences with heartbreak and how they did, or didn't, cope with the experience. They remain anonymous on screen, as Dougherty re-enacted the "interviews" with sock puppets and edited them together in a way that helps you laugh, when laughter is possible, as they're recounted.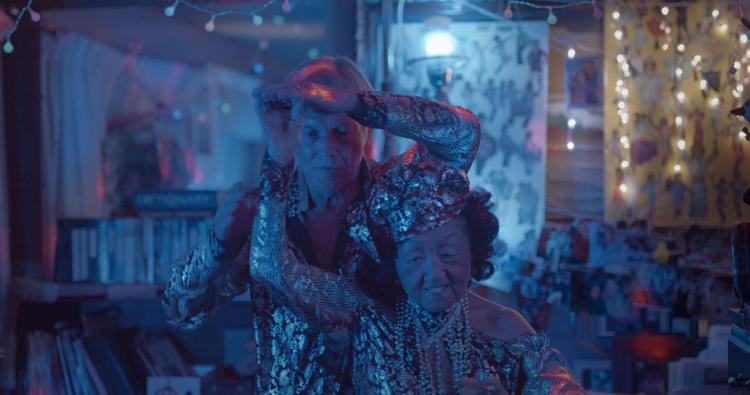 "Coby and Stephen are in Love"
Carlo Nasisse, Luka Yuanyuan Yang, 2019, USA-China, 31 min. Northwest premiere
Each person is "Coby and Stephen are in Love" would make for a fascinating character study on their own. Together, they make for a glitzy clad entry in the festival's "Younger Than Yesterday" strand about older subjects — it's a charming and handsomely filmed examination of a couple's relationship.
Coby Yee, a former performer, and later owner, of a San Francisco club called the Forbidden City, who is now in her 90s, and her partner, Stephen, is a type of his own, specifically, a taller, septuagenarian Peter Fonda.
They teach dance classes at senior centers and wear matching patterned clothes that Coby makes herself. They live in a house that, between their respective pastimes, looks like an outsider art project, in the coziest way possible, that perhaps most homes should. Stephen busies himself with collages constructed of photographs of Coby in her dancing prime. Some are dedicated to, shall we say, parts of her body, while an unrelated "travelogue" series places her atop exotic travel destinations. 
She was a marquee draw in her time, enough so that people line up to get photographs signed at a convention, and their final performance is in front of an adoring crowd. (She dances, Stephen sings.) 
The funniest scene comes later, when Stephen is delivering a heart-felt monologue about the nature of love later in one's life. In the background, Coby is somewhat paying attention, but mostly focused on a game of solitaire on her desktop computer. Lives entangled, not at every moment, but a collage of complementary juxtapositions.