The biggest festival in a town that loves festivals, the Big Sky Documentary Film Festival will come to a big close this weekend.
The featured retrospective filmmaker this weekend is Travis Wilkerson. Wilkerson's movies include, "An Injury to One," which examines the case of Frank Little, a member of the Industrial Workers of the World, who was killed during the labor movement in Butte. That film screens at 6:15 p.m. on Friday, Feb. 22, at MCT Center for the Performing Arts. 
On Friday night, the festival will announce the winners in its four competitions. Best Feature (films over 40 minutes), Best Short (films under 40 minutes), Best Mini (under 15 minutes) and the Big Sky Award.
On Sunday, there will be two awards screenings, at 6:30 and 9 p.m., at the MCT Center for the Performing Arts. Each screening pairs a feature-length movie with a short.
This week, we took a look at some of the short documentaries, plus two feature-length docs are are up for awards.
"All on a Mardi Gras Day"
Michal Pietrzyk, 2018, 22 min.
Screening as part of a shorts block:
Friday, Feb. 22, 1 p.m., The Wilma
Saturday, Feb. 23 4:15 p.m., MCT Center for the Performing Arts
Demond Melancon partakes in annual ritual that he says saved his life.
He spends a mind-boggling amount of time each year designing and making a full suit, with intricate, hand-stitched beadwork and feathers, to march as a Mardi Gras Indian on Fat Tuesday.
To clarify, he and others are so invested in the art and tradition that they make a new suit every single year.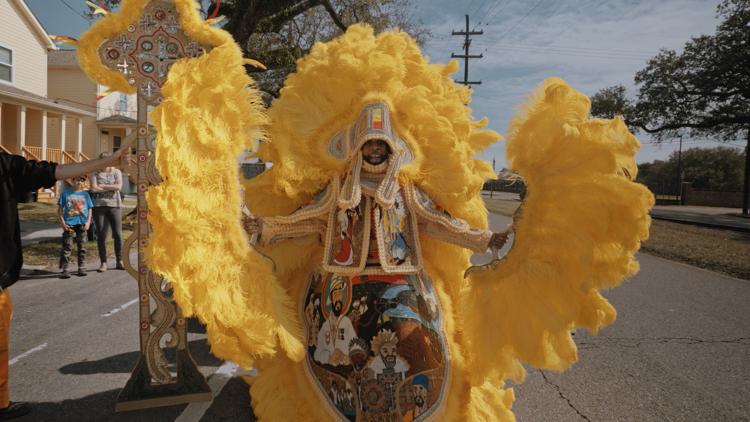 "All on a Mardi Gras Day" catches Demond in the final month and a half, giving him time to explain the challenge — outdoing your suit from last year, and everyone else's. "You gonna kill 'em with that needle and thread," he says.
Melancon lives in Chalmette, 10 miles from New Orleans, and is quick to clarify that he hates Chalemette.
The gentrification and rising house prices have forced him from the Ninth Ward, where he had a difficult youth and used drugs until making suits, and the sense of belonging accompanying it, took over his time.
He could, in theory, move back there if he didn't spend so much of his free time making his Mardi Gras suit, so someone from the film crew asks him why he doesn't. The suit, he clarifies, is the reason that he won't go back. It wouldn't make sense to go back if he couldn't afford to make a suit.
There are different versions of the story of the Mardi Gras Indians. Some of them are conflicting. In the variation that Demond shares, Indians helped runaway slaves making their way North and so the Mardi Gras tradition pays homage to them. (Whether or not this is appropriate has been debated and remains unresolved.)
In the final portion of the film, Demond, awake for days straight, finishes his suit and heads to New Orleans, where there's music and competitive showdown. Director Michal Pietrzyk includes plenty of photography close-up footage of the suits, which are spectacular in the truest sense.
That's the point of all of this, after all. "You gotta show people what you can do," Demond said.
(Cory Walsh)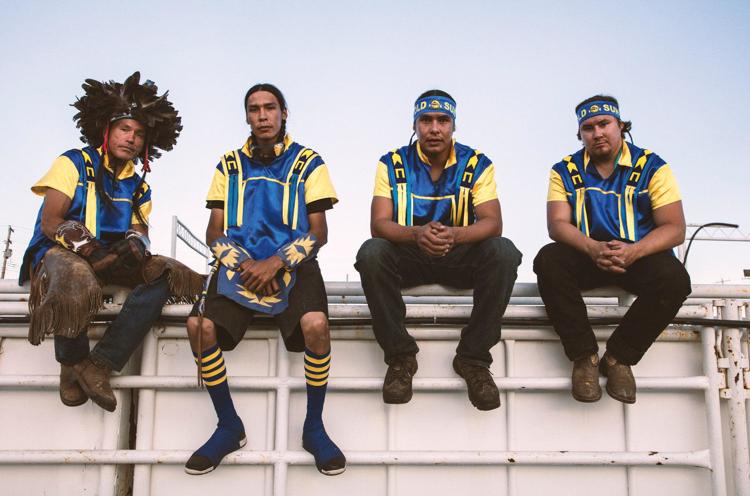 "Fast Horse"
Alexandra Lazarowich, 14 min.
Screening on Friday, Feb. 22, at 8:45 p.m. as part of a shorts block at the MCT Center for the Performing Arts.
Indian relay works something like a relay race in track and field. Except the runners are the horses and the jockey is the baton, who must leap off a horse and onto another one without losing their standing. 
It's "the first extreme sport," as a member of the Old Sun relay team says. In "Fast Horse" a 14-minute introduction to the sport, this group from the Siksika Nation (Blackfoot) in Alberta prepare for the Calgary Stampede.
Team leader Allison Redcrow hires a new jockey, Cody Big Tobacco, who spent last season working on the sidelines and is now testing his hands (and totally impressive jumping ability), as the rider.
Director Alexandra Lazarowich included high-energy GoPro footage, along with an riveting footage during the Stampede, that give us a high-adrenaline drama without having to leap onto the sidelines yourself.
Given the speed, the danger level is high at times, which adds to the urgency when Big Tobacco gets in the ring. In its short run time, "Fast Horse" achieves a lot, and whets the appetite for a full-length examination of the sport and its history.
(Cory Walsh)
"The Warming Shed"
Nathan Reich, 2018, 24 min.
Screening as part of a shorts block at 3:30 p.m. Saturday and Sunday, Feb. 23-24, at the Wilma.
"The Warming Shed" sketches out life on a cattle ranch outside Baker, Montana. Filmmaker Nathan Reich chose to do so during winter, the time of year when it's the least easy for anyone, whether it's the Rost family, the cows themselves, or the filmmakers.
In a lean 24 minutes, Reich develops an arc centered on a sickly calf found in the darkness. A teenager monitors it in the warming shed. Her brother names it Frodo, and she teaches him how to nurse it. She tells it there's "no dying on us," and tends to it periodically through the film. There are shots of kids playing, and holding an old sled? Or sledge? What was it? Either way, it alludes to how long they've been there. There are shots of the herd — just black, blocky silhouettes on white snow against a white sky.
She and her little brother pull a calf on their own for the first time, which Reich keeps in frame. The work and the landscape look hard enough on their own, and the movie doesn't romanticize it.
Although Reich didn't include a musical score, it ends with a snippet of former Alaska resident John Luther Adams' string quartet, "The Wind in High Places," with icy tones that match the beauty and difficulty of life in winter.
(Cory Walsh)
"Fire on the Hill: The Cowboys of South Central L.A."
Directed by Brett Fallentine, 86 min.
Saturday, Feb. 23, 6 p.m. at the Wilma.
These cowboys chose to ride at the Hill, a South Central-based horse stable that drew kids from L.A. and Compton who were interested in spending their time away from gangs, away from unideal home lives. They learned to ride horses, to ride bulls, to wear Carhartt baseball caps instead of snapbacks.
Inner city cowboys make for plenty of visual contrast, from Fallentine's opening shot pulling back from three men riding on a dusty trail that, as it turns out, is underneath the highway to one subject riding his horse through the streets of L.A. to pick up women.
While it's an easy subject to make into cliché, Fallentine generally skirts clear of the obvious, though it does get a little awkward when an opening voiceover describes the mainstream media as one-sided for only depicting South Central and Compton as gang-infested cities, before the film cuts to that same cowboy getting ready in the morning with the TV news blaring about gang violence, which then becomes a topic of discussion for the first 20 or so minutes of the movie.
It's an unavoidable contrast, but one that gets more nuanced as the film goes on — Calvin, the cowboy who picks up women on his horse, talks about how gang members don't bother him while he rides through the streets late at night. They're more afraid of the horse than a gun, he notes.
A bull rider, Chris, has a friend die from a possibly-accidental shooting and it throws him into a funk for several rodeos in a row.
The third character, Ghuan, attempts to build his own stable in the middle of the city, but gets stuck in a tangled knot of bureaucracy and neighbors who don't want to smell horse poop.
The film does a good job of highlighting the multifaceted struggle of inner city-based rodeo riding — it's hard to get sponsors as a black rodeo rider, although the rodeo community as a whole is fairly welcoming.
Fallentine falls back into a bit of the same-old doc style near the end — following Chris' return to the top of bull riding has a surprisingly manufactured feeling to it (there's no way he was very last to ride in about six rodeos in a row) and Ghuan's storyline sort of just peters out without explanation.
But a fascinating story is still good even if told a little ham-handedly. Come for the juxtapositional characterization, stay for the slow-motion shots of bull riding that reveal a lot of flying spit.
(Peter Friesen)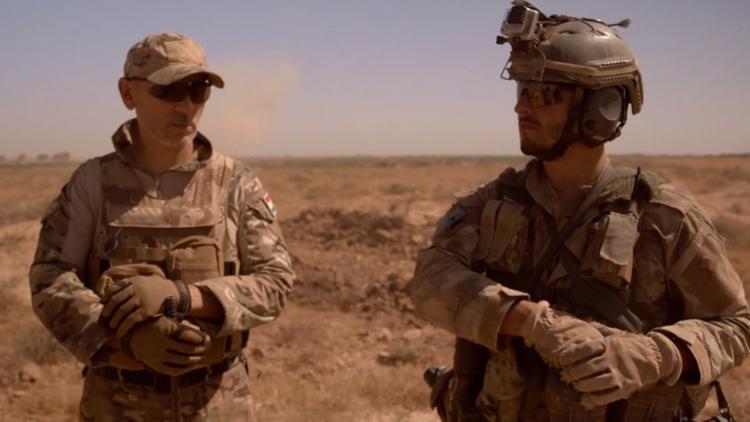 "My War"
Directed by Julien Fréchette, 97 min.
Saturday, Feb. 23, 7 p.m. at the Elks Lodge.
Remember ISIS? It seems like an age ago that the extremist faction that threatened to take hold of Iraq and Syria was a daily threat, but "My War" reminds one how completely the conflict dominated the Middle East, especially when the Syrian civil war broke out between the ethnic Kurds, the Syrian forces, a rebel Syrian faction and ISIS (and then later, Turkish and Iraqi troops).
The ethnic Kurds were perhaps the least visible of all the factions, but inspired visceral reactions from some westerners, who saw their plan to build an anti-capitalist, feminist, libertarian socialist country and thought, this is who I should be fighting for.
"My War," follows two of those volunteers, both from Canada, as they prepare to join the People's Protection Units of the Democratic Federation of Northern Syria.
The logistics here are the most gripping parts of the documentary.
Wali (one of two subjects referred to only by their Arabic or Kurdish names, which they were given on arrival in Syria) pulls up the Lions of Rojava Facebook page and shows his messages with a liaison who gives him details on how to join.
He helps a friend join, giving him advice on what to bring (first aid kits) and where to fly through (not Turkey) to get to Syria.
Wali's interview upon arrival is an informal chat with some generals, who mainly want to know how big Canada is before asking what languages he speaks. After they all shake hands, he's handed a rifle.
The other Canadian subject, Hanna Bohman, is seen on her second tour to Syria, where she immediately is assigned to a far-flung YPJ outpost with teenaged fighters far from the front line. After two months of "braiding hair and singing" she argues her way to a front-line position.
Fréchette meets his other two subjects while in Syria — an American and Frenchman in Wali's company, Rebazy Bakur and Thierry Pailler.
All of the subjects are ex-military and all seem to be more interested in being on a battlefield than committed to the political mission of Rojava. All though, share a hatred of ISIS.
For any viewers familiar with Brace Belden (known famously on Twitter as @pisspiggranddad), a left-wing American with no military experience who joined the YPG and regularly tweeted from the battlefield, the documentary feels like it's lacking a little bit.
Even between four subjects from four very different backgrounds, Fréchette didn't find much variation in character or motivation, leaving viewers — even as the movie closes — still wondering why one would do what these people did.
Maybe he's not even sure, but there's an answer somewhere. It's the kind of film that begs further reading.
(Peter Friesen)