A soccer team overcoming a tragic plane crash that claimed most of its players and staff. Musicians in a Rio favela trying to start a positive movement amongst the drug trade. Police officers and local residents in East St. Louis trying to live their lives in the midst of a record homicide rate. 
The stories in movies by brothers Michael and Jeff Zimbalist don't have much in common on the surface. Yet all document people enduring transformational moments in their lives, a feature the filmmakers seek out.
"We look for the universal in subjects' journeys," Jeff said in an email. "Even if we're nothing alike, is there a question or challenge or choice though which a wide, diverse audience can emotionally identify with this subject?"
As an example, he pointed to "Give Us This Day," their new film about East St. Louis, which provides viewpoints from both cops and residents over the course of a tumultuous year. One man, James Samuel, is going to become a father. Dortavus Boey, a teenager who's been injured by gun violence and lost friends to it, applies to college. The police chief, Michael Hubbard, has his own child who's getting ready to go to college as the chief looks for ways to lower the crime rate with a slim budget.
The brothers were picked for a retrospective this year at the 16th annual Big Sky Documentary Film Festival. You might not immediately recognize their names, but their work has been seen in many households. Two of their sports-related documentaries, "Youngstown Boys," and "The Two Escobars," screened as part of ESPN's "30 for 30" series, and they executive-produced series for Netflix ("ReMastered") and Fox ("Phenoms").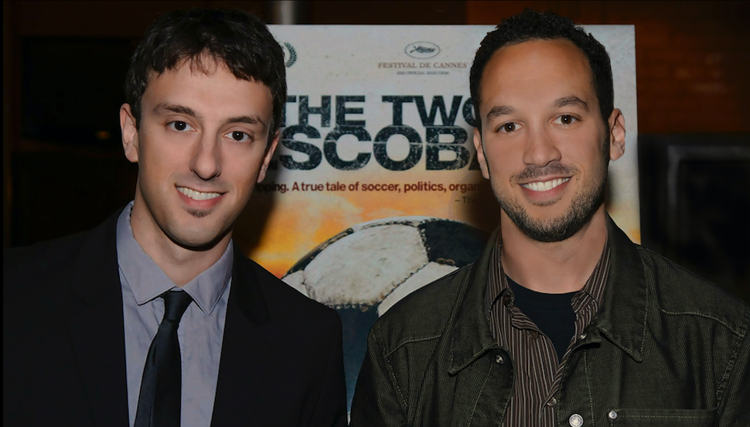 ***
Jeff, 40, and Michael, 39, initially took different paths. Jeff studied film, among other subjects, at Brown University and Michael pursued acting at New York University.
Their father is an economist specializing in Latin America, and trips in the region were a part of their youth.
"We grew up traveling in the summers to mostly Latin America, and to some developing countries in Asia and Africa as well doing social service projects," Jeff said in a phone interview. "Our father is a Latin America economist, so he told us stories of his travels and adventures during pretty historic regime changes throughout Latin America when he was younger; Cuba, Chile, and Panama primarily. And so we had an interest in working in those areas." He also had interests in journalism and social issues — in college, he made promotional and industrial videos for nonprofit and development work.
In 2005, Jeff and Matt Mochary directed "Favela Rising," in one of the hundreds of slums in Rio de Janerio. It tracks the emergence of a band and cultural movement, AfroReggae, that strives to improve life amidst drug violence and extreme poverty. (He and Michael are fluent in Spanish and conversational in Portuguese.)
Michael was running a theater company in Mexico at the time, and after finishing a play the two decided to begin working together under the All Rise Films name. Of the switch in fields, Michael said he was interested in trying something new, "something that had greater reach and felt perhaps a bit more relevant for generating dialogue in and among the people I spent time with. As much as I appreciated and still appreciate theater, there were limitations to the reach, and those that were interested in it."
***
"Give Us This Day," filmed over the course of 2017, is a good primer on their immersive approach to filmmaking.
They were approached by a production company to shoot a verite-style documentary in high-crime cities from perspectives of both the residents and law enforcement.
"From the onset we were all interested in going beyond the often-oversimplified portrayals in mainstream news media of those two groups, and really looking at the complexities intrinsic in the relationship between cops and residents in these areas that were experiencing a lot of crime," Michael said.
At first, they shot in multiple cities, including Chicago, Los Angeles, and Muskegon Heights, Michigan. They eventually narrowed it exclusively to East St. Louis, Jeff said, "both because we felt that the characters, the subjects, and the access we had were the most authentic, and also because we felt that it broke a lot of the stereotypes and had us question our preconceptions in new and fresh ways."
As they lay out in the film, the city of 29,000 residents had 27 homicides in 2016, a number that the department was eager to lower. The residents share parts of their lives against that backdrop, which Hubbard and two officers struggle to improve, or at frayed moments, just maintain.
The Zimbalists began filming a larger group residents than we see on screen.
Finding the right subjects can be time-consuming, a matter of being upfront about their intentions, and building trust. Some potential subjects are clear about whether they want to be on camera or not. Others are more reluctant.
"That's a process of genuinely listening to them," Jeff said, "Showing up consistently when we say we are, doing what we say we'll do, and over time slowly earning their trust and building a relationship that usually goes beyond a work subject-filmmaker relationship, and then it's at that point where they start to let us into some of the more intimate places in their lives."
They tell their backers that it's "fundamental that we have enough time to build that trust" so people know they're not parachute-reporting.
Tragedies occur over the course of the year. People who they filmed were killed. One subject, a younger man named James Samuel, had his car shot up while he was inside, escaping with a wound in his leg.
"There was news that would come in on that project all the time that was really tragic news, and unfortunate turns of events," Michael said. "And also of course, fortunate, great turns of events, and I think that was inherent in the group that we were following."
Going into the filming, they knew there were risks for their subjects and their crew, and "there was a lot of attention paid to safety, legality, and ethics for our crew being on the ground, and either present for some of these events, or at risk of being present for some of these events, and how to handle it," he said.
They worked with a local crew that could be called out on short notice, and the film has many ride-alongs with officers responding to calls.
At some points, they were filming with up to six cameras, and pushed for as many days of shooting and editing as they could. That results in thousands of hours of footage, and in some cases, people and story arcs, that don't end up onscreen.
"We're going to start to focus in or home in as the process goes on those subjects' whose lives are transforming in very real ways in the time that we're filming and probably away from those subjects whose lives don't have as many big turning points," Jeff said.
"Mike comes from an acting and narrative background, and so we tend to use a lot of the structural knowledge that we have from writing screenplays and bring that in to structure the documentary stories and looking for hitting certain marks over the course of the duration of the film, and we play around with a variety of different options and then we do a lot of focus-grouping," Jeff said.
Like many of their films, it ends with a tone of optimism for some of its subjects. In "Favela Rising," residents of a slum in Rio form a cultural movement to give young people other options besides the drug trade. In "Nosse Chape," a Brazilian soccer team tries to rebuild after losing most of its players and staff in a plane crash.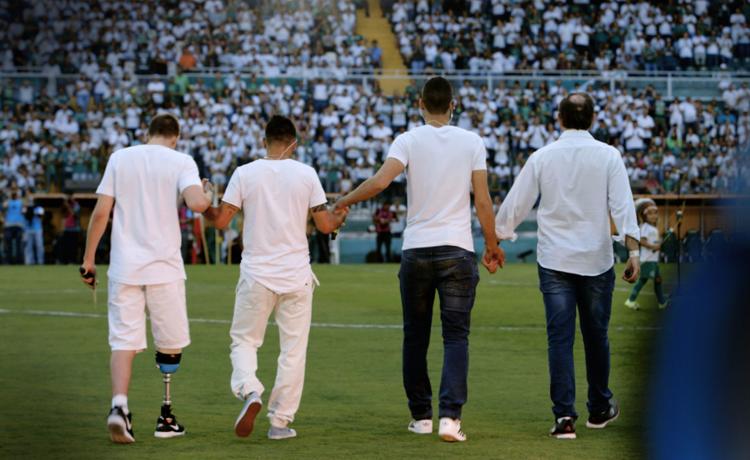 "From 'Favela Rising,' where there's a real tangible prescription or model that we're sort of applauding, to 'Nosse Chape,' where we're doing our best to sympathize with a variety of different subjects and give them all the same amount of persuasiveness and credibility, we also do make sure that we're being fair and balanced and that we're not imposing too much of our hopes and dreams and takes and subjectivity," Jeff said. Michael added that they consider the effect the movie could have. In the case of "Give Us This Day," they premiered the movie to a full house in East St. Louis, with many of the subjects on hand. In many cases, they've stayed in touch with people they've filmed long after they've started on another project.
"One of the things I've really liked about the job and the work, is that we get inserted into worlds that we otherwise wouldn't, and at a level of depth and intimacy that, you know, I end up and I know Mike feels the same way, identifying with people that are not always like us," Jeff said.