Titus Andronicus
(Friday, Sept. 13)
Titus Andronicus, the New Jersey punk band, have been coming to Missoula for awhile, having played almost 10 years to the day in 2009 in the ZACC Basement. That sparsely attended show was about a year before "The Monitor" (2010) brought their verbose and totally unvarnished style of Garden State rock to a wider audience.
In the years between, frontman Patrick Stickles and company have put out super-ambitious albums like "The Most Lamentable Tragedy," a rock opera that dealt with his manic depression, and looser records like last year's "A Productive Cough." Fans of punk and Dylan would do well to check out the raucous cover of "Like a Rolling Stone," in which Stickles rewrites the classic lines into the first-person over a rave-up backing.
The group's newest record, "An Obelisk," was recorded with Bob Mould of Hüsker Dü. While Stickles can be abrasive and wordy (he once wrote a 9,000-word review of a Replacements show), the songs and production on this new album are stripped down and lean, clocking in at just over 38 minutes. Songs like "(I Blame) Society" and "Tumult Around the World" keep the messages and blunt impact but trim the run time. It's a refreshingly loud and stripped-down record, and their previous stops in Missoula have shown they're not to be missed if you want to see a band play some cathartic rock.
Control Top opens at the VFW. Doors at 8 p.m. and show at 9. Tickets are $10 in advance at Ear Candy or $12 at the door. (Cory Walsh)
K. Flay
(Saturday, Sep. 14)
Ah, post-genre never looked as good as it does on a certain brand of female singer-songwriter, who does a little rapping, a little singing and veers from indie rock to Top 40 to club bangers on any given track.
So K. Flay, who is billed as a rapper/singer/songwriter/producer has been nominated for a Grammy for Best Rock Song, even though that's the genre maybe least likely to define her sound, although Fender did publish a paid profile of her on Pitchfork.
Her newest record "Solutions," out in July, kinda sounds like if Lorde partnered up with Imagine Dragons instead of Jack Antonoff. Some early rapping on "Baby Don't Cry" sounds at home over a rubbery bass line that recalls, speaking of Cake, "Short Skirt/Long Jacket."
Houses and Your Smith open at The Wilma.
Doors at 7 p.m. Show at 8 p.m. Tickets are $18.50-20.50. (Peter Friesen)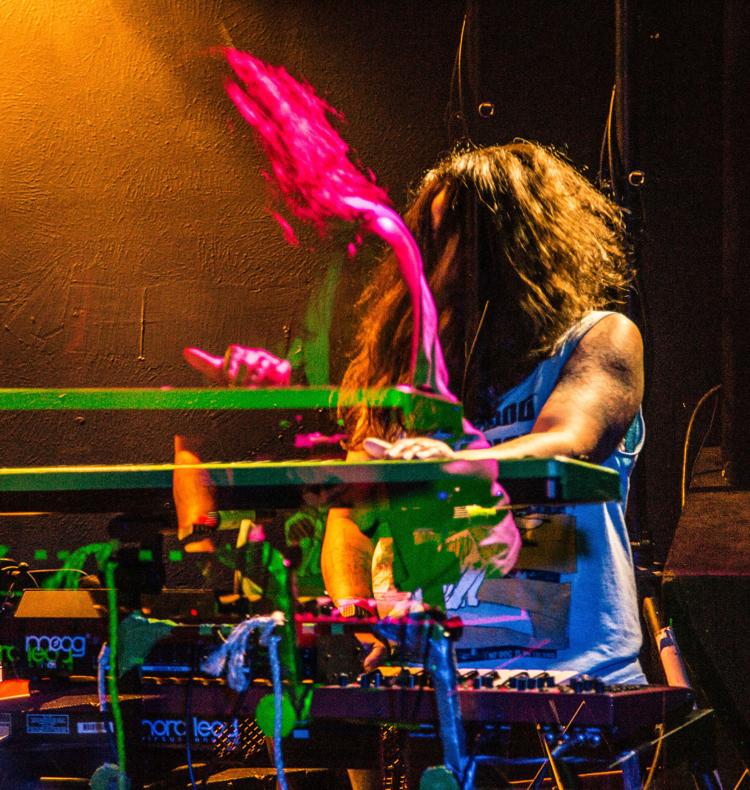 Avola
(Sunday, Sep. 15)
Trust Total Fest to bring the weird, and a whole night of it at that. Two synth acts from Portland top the bill: Avola, featuring Vern Avola, creating walls and waterfalls of layering synthesizers, and Elrond, a vaporwave duo featuring Avola and Ian Gorman Weiland.
Avola has a heavy output, with two full albums, two splits and four live recordings released in a little over a year. The music could be described as ambient, for its lack of vocals or actual rhythm, but it lacks any of the look-and-you-miss-it flourishes of classic ambient music, instead pulverizing the listener with drone synths or providing moody background music. Not unlike Hans Zimmer and Benjamin Wallfisch's soundtrack to "Blade Runner 2049."
Synesthesia open at the VFW. Doors open at 8 p.m. $5 cover. (PF)
The Melvins, Red Kross and Toshi Kasai
(Monday, Sept. 16)
The last time The Melvins came through Missoula, the Seattle sludge-metal group was touring as The Melvins Lite. While that was heavier than most groups can muster, a local Melvins connoisseur has told me that it was much lighter than the real deal.
Regardless, this show is one to see for fans of heavy music (and heavy weird music). This particular touring incarnation has guitarist/vocalist Buzz Osborne, drummer Dale Crover, plus bassist Steven Shane McDonald. His main gig is Red Kross, who have a new, well-received power-pop album.
Toshi Kasai open at the Wilma (it was moved here after the original location, the Top Hat, sold out). Tickets are $26, all ages, logjampresents.com. Doors open at 7 p.m. and the show starts at 8. (CW)
Flogging Molly and Social Distortion
(Tuesday, Sep. 17)
OK, OK, so I got these guys confused with the Pogues. That kills my joke about their Christmas song. How about — wait, no that's the Dropkick Murphys. Well there is — wait, sorry. I'm thinking of the Young Dubliners.
My Irish music taste begins and ends with The Chieftains (and even there, more than one song at a time can be hairy), but Missoula's got a thing for these guys, and I have to assume it's all the same people who go to St. Patrick's Day in Butte to watch people get arrested for being drunk and disorderly.
And, again, another double bill — here with punk band Social Distortion. There appear to be two kinds of double tour bills — the bands that team up to charge exorbitant prices for a festival-like lineup (Pixies, Weezer, Sleigh Bells) and the bands that team up 'cause either one on their own would maybe get close to selling out The Wilma and they realized they like big stages or something.
I guess with four total bands you really get your money's worth, though.
The Devil Makes Three and Le Butcherettes open at the KettleHouse Amphitheater.
Doors at 5:30 p.m. Show at 7 p.m. Tickets are $42.50-54.50. (PF)
Wizard Rifle
(Wednesday, Sep. 18)
With the name Wizard Rifle, a band can really only go in so many directions. Are you going to ape King Gizzard and the Lizard Wizard or Thee Oh Sees by drawing on fantastical themes and noodling mathematical on guitars until you find a mosh-able instrumental break? Or, are you going to go real old school, Donovan-style, and get medieval acoustic hippie?
Wizard Rifle shotgunned their way into a new room, however, and decided two guys, a lot of fuzz pedals and headbanging would get them far enough. Throw in titles like "Caveman Waltz" — with lyrics about Adderall, a chorus of "the modern world is a trap/the modern world no going back," and a speed-metal middle section — and a pentagram/peace sign symbol on the album art and you have, I guess, Wizard Rifle. Not a joke band, entirely, but likely a damn good time.
Doris Doom and Low Feet support at — one last time — the VFW. Doors at 8 p.m. (PF)