An abundance of bike lanes, paved trails, dirt roads and singletrack make Zootown extremely bikeable. The few routes listed below include easy and difficult rides, and are just a taste of what's available.
1. Bitterroot Trail: How far will you take it?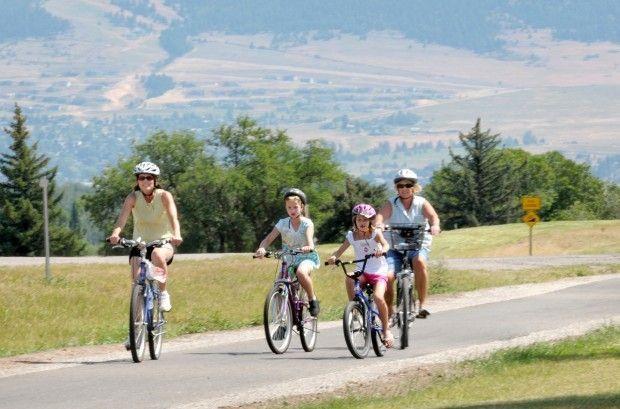 2017 marks the first summer that the Bitterroot Trail can be ridden from Missoula all the way south to Hamilton. The 44-mile paved and relatively flat trail begins at the Milwaukee Road Trail in Missoula's Sawmill District and ends 2.5 miles south of Hamilton near Angler's Roost Campground. Be aware that there are currently no public restrooms or water fountains along the trail. It's roughly seven miles from Missoula to the oasis of Lolo, which has a brewery, convenience stores, a grocery store, and fast food. Ten miles later you'll hit Florence. Stevensville lies eight miles down the road, and Victor awaits another eight after that. Pedal seven more miles to Corvallis. Now Hamilton is only five miles away. Ride the final 2.5 miles to trail's end. (All distances are approximate.)
2. Snowbowl: Roll down the Beargrass Highway
Share the Snowbowl chair lift with your mountain bike so you can ride down the Beargrass Highway, a 5.5 mile ride from life to base. The lift operates on Fridays, Saturdays and Sundays noon-5pm from June 24 - September 10, 2017. Cost is $8 for adults, $2 for bikes, and $4.50 for children & seniors.
3. Missoula streets: Bike to beer
Mountain Biking Missoula has created a Missoula Microbrew Tour to six of Missoula's microbreweries: both KettleHouse locations, Bayern, Draught Works, Flathead Lake Brewing, and Tamarack. You can also add Imagine Nation Brewing  between Draught Works and Bayern and The Dram Shop between Tamarack and Flathead Lake Brewing (new since the map was designed). The tour covers eight miles. If you make all the stops, that's one brewery per mile! Wear a helmet and pedal safe. 
4. The Rattlesnake: Blow past the black bears
Head up Sawmill Gulch Trail from the main Rattlesnake trail head for an 8.4 mile loop with a cumulative 1,467' of elevation gain. Mountain Biking Missoula has this Turkey Trail Loop mapped out for you. It's a mix of single-track and dirt roads, with a climb difficulty rating of 3.5 out of 6. More trail details here. Watch for bears. 
5. Blue Mountain: Leave the dog walkers in the dust
Start at the main Blue Mountain trail head for an uphill ride on the Blue Mountain Blueberry Trail, mapped out by Mountain Biking Missoula. This 9.6 mile loop has 1,657' of cumulative elevation gain and a climb difficulty rating of 3.5 out of 6. You'll be riding a combination of single-track, logging roads, and gravel roads. More trail details here.
6. Pattee Canyon: Bike Mount Sentinel
This 6.8 mile loop - mapped out by Mountain Biking Missoula - begins at the Crazy Canyon trail head. Climb up the single-track to the top of Mount Sentinel (5,158' high) and take the forest service road down or vice versa. Cumulative elevation gain is 1,538' with a climb difficulty rating of 4.5 out of 6. More trail details here.
7. Mount Jumbo: Because it's there
Catch the Sidewinder Trails at the Lincoln Hills trail head. Made up of two connected loops, this 7.6 mile ride has a cumulative elevation gain of 1,250'. Mountain Biking Missoula gives it a climb difficulty rating of 3.3 out of 6. More trail details here.
 8. Missoula bike paths: Ride across Missoula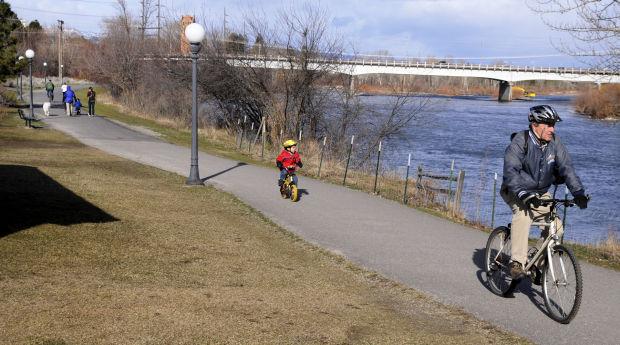 You can ride the Milwaukee Trail 1.8 miles east from Reserve Street to Osprey Stadium, where it turns into the Riverfront Trail. Follow that 1.5 miles along the Clark Fork River to Washington-Grizzly Stadium, where it turns into the Kim Williams Trail and travels 2.5 miles through Hellgate Canyon. This is an easy cross-town path that's all paved except for the Kim Williams Trail portion.